Digital Issues & Editions

All Inbound Logistics' digital content is in PDF format (requires Adobe Reader). You can read the digital edition on your computer, print articles, or take the issue with you on your iPad or other tablet.
To receive e-mail notifications when new digital issues are available for download, start a free subscription to Inbound Logistics now.
This Month's Digital Issue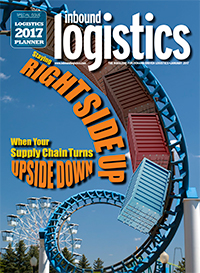 January 2017
January 2017 | 336 pgs. | 86.4 MB
Managing your supply chain can sometimes feel like you're on a rollercoaster, with everything from global trade to transportation to manufacturing twisting and turning on a wild ride. While it can't control those fluctuations, demand-driven logistics can deliver the agility and flexibility you need to anticipate and withstand any future supply chain ups and/or downs. The "I need that" information in this issue will help you relax your grip on the safety bar and enjoy the ride.
View as an eBook.
This Month's Digital Edition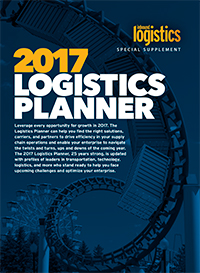 2017 Logistics Planner
January 2017 | 144 pgs. | 43 MB
Find the right solutions, carriers, and partners to drive efficiency in your supply chain operations and enable your enterprise to navigate the twists and turns, ups and downs of the coming year. The 2017 Logistics Planner, 25 years strong, is updated with profiles of leaders in transportation, technology, logistics, and more who stand ready to help you face upcoming challenges and optimize your enterprise.
View as an eBook.