ABF Freight

Tim Thorne
President
Our customers tell us they value not just the skill we apply to each task but also the will we display in exceeding their expectations. Let us show you how ABF FreightSM has The Skill & The WillSM to creatively solve your supply chain challenges.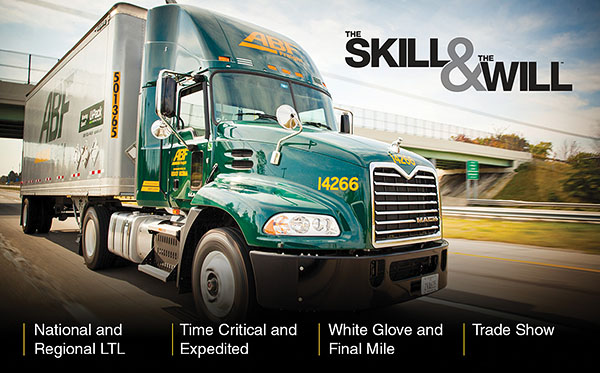 ABF Freight, an ArcBest Company, is one of the most trusted and recognized brands in the LTL industry. We have The Skill & The Will to creatively solve freight transportation challenges with customized solutions. We go above and beyond to provide our customers with superior personal service through a single point of contact.
National & Regional LTL Our resource-rich infrastructure includes an innovative network for regional and national less-than-truckload shipments.
Time Critical & Expedited* Our expedited and time-definite solutions include guaranteed same-day shipping, next-day shipping and second-day shipping.
Final Mile & White Glove Delivery Service We offer curbside, threshold, white glove and final mile solutions.
Trade Show Shipping We can handle your exhibiting needs from start to finish.
Retail Shipping Services Precision shipping and omni-channel solutions to your retail stores and direct to your ultimate consumer. Enhanced security and delivery compliance to major retailers.
ReloCube These portable moving and storage containers are perfect for high-value freight requiring enhanced security.
Flatbed Delivery Service Perfect for commercial heating and air conditioning units; electrical transformers; oil, gas and petrochemical equipment; steel and metal raw materials; and construction site supplies and equipment.
Secure Shipment Divider Our segregated bulkhead shipping solution provides enhanced security for high-value freight.
We also offer a single point of contact to services from our ArcBest sister companies ABF LogisticsSM and Panther Premium LogisticsSM including multimodal, global and logistics management solutions.
Our network of local service centers means there is always a nearby customer service representative to personally discuss your freight transportation needs. Plus, for those who prefer centralized support, our team of transportation professionals will keep an end-to-end watch over your shipment.
From small business owners to Fortune 100 companies, our loyal customers trust us for their shipping needs, large and small. We have delivered on a promise of quality since 1923. No matter the challenge, we'll find a way.
*Service is offered in conjunction with Panther Premium Logistics, a subsidiary of ArcBest Corporation and a sister company to ABF Freight.