Show/Hide Search
Alaska Air Cargo

Betsy Bacon
Managing Director
Alaska Airlines and Horizon Air are subsidiaries of Alaska Air Group. Together, the Seattle-based carriers transport approximately 118 million pounds of cargo annually, including mail and freight. About 23 million pounds of this is fresh Alaska seafood, which is transported to the Pacific Northwest and beyond each year. The airline serves 95 cities through an expansive network in Alaska, the Lower 48, Hawaii, Canada and Mexico.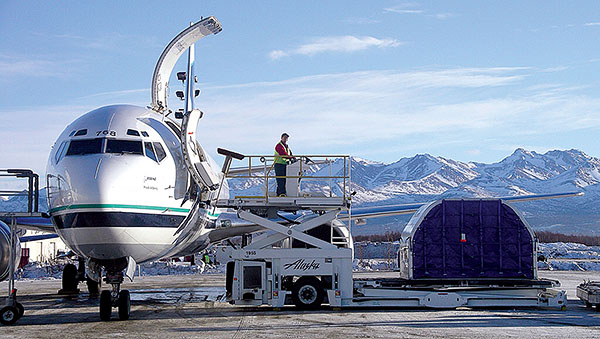 Alaska Air Cargo: Delivering Quality for Over 80 Years
During its 80-plus year history, Alaska Airlines has distinguished itself as one of the most respected combination passenger and cargo carriers in the world. Its air cargo division, Alaska Air Cargo, operates the most extensive air cargo operation of any passenger airline on the U.S. West Coast. The cargo fleet includes five Boeing 737-400 combination passenger and cargo aircraft and one 737-400 all-cargo aircraft in addition to its fleet of 737 all-passenger aircraft.
Alaska Air Cargo offers unbeatable frequency to more destinations in Alaska than any other cargo carrier and serves more than 80 cargo destinations across North America. Of the 20 communities served in the state of Alaska, only three are connected to a road system. For these remote areas, air service is often the only major form of transportation and the primary means of receiving many of the basic goods residents need to survive.
With its premium GoldStreak™ service providing guaranteed same- or next-day deliveries of medical supplies, parts and equipment, Alaska Air Cargo provides a critical service throughout its network. The airline has increased its maximum per piece weight to 150 pounds for its GoldStreak™ service. In addition, Priority and General Air Freight services are used extensively by freight forwarder customers and other shippers. Alaska Air Cargo is the first airline to require all cargo employees to go through an annual cold-chain training course to ensure that all perishable shipments receive the required urgency and special attention.
Alaska Airlines is always working to enhance its passenger and cargo services. The company introduced several new destinations in 2014, to include New Orleans, Baltimore, Detroit and Albuquerque. The airline continues to see growth from West Coast destinations to all four major Hawaiian Islands. Hawaii is served daily with 22 nonstop flights from Anchorage and seven West Coast cities: Bellingham, Seattle, Portland, San Diego, Oakland, San Jose and Sacramento.
Alaska Airlines' dedication to improving service has resulted in various awards over the years. Alaska Airlines is the #1 on-time major North American airline 2010 - 2013 as rated by FlightStats.com. The company has been recognized for outstanding service and has received the "Highest in Customer Satisfaction among Traditional Carriers in North America" seven years in a row in the J.D. Power and Associates North America Airline Satisfaction Study.