Ameren
Midwest Offers Efficient Freight Movement and Lower-Cost Transportation Advantages

Michael S. Kearney
Manager, Economic Development
Mission:
Ameren operating subsidiaries provide energy services to 2.4 million electric and 900,000 natural gas customers across 64,000 square miles in Illinois and Missouri. Ameren's Economic Development Team provides comprehensive development services to companies seeking business location option(s). Our goal is to assist your location process and to help power your company's business growth.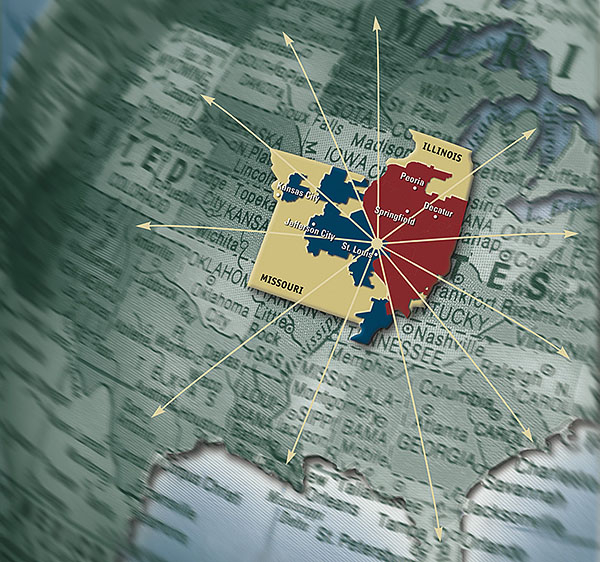 Central Location Offers Unsurpassed Infrastructure and Accessibility
The two-state Ameren service area—including central and southern Illinois, central and eastern Missouri and the St. Louis metropolitan area—is competitively positioned as a Midwest distribution hub.
Advantages include:
Stability and control of costs. The expenses of labor and other key aspects of operating distribution facilities in Ameren's territory are 18% below the national average costs.
Unsurpassed transportation infrastructure network with access to interstate, river, rail and air create a competitive geographic advantage. The St. Louis region ranks as the 6th largest center of wholesale trade not located on a coastal port and is the third largest rail hub in the nation. The Metropolitan Port of St. Louis extends 70 miles along the Mississippi River from Madison County, Ill., to Jefferson County, Mo. America's Central Port, located near Granite City, Illinois is part of the third-largest inland water port by tonnage in the United States and provides truck, train and barge intermodal facilities.
Market population of nearly 78 million people with above average incomes within a day's transport.
A total of 18 intermodal terminals are accessible from Ameren's territory, including the multi-modal hub located in Decatur, Illinois, delivering both domestic and international flexibility for companies through a well-positioned transportation corridor, connecting the Midwest to the East, West and Gulf Coasts of North America. Our region offers unequalled choices of facilities with connections to all seven US/Canadian Class 1 railroads servicing inland ports and ports on the Atlantic, Pacific, and Gulf Coasts in the United States, Canada and Mexico. These regional strengths provide competitive advantages that account for the 10-year growth rate in the Transportation & Warehousing Sector of Ameren's service area that exceeds national trends.
Ameren Can Help You Start Your Site Search
Ameren is your source for access to site location support. Ameren, one of the Midwest's largest investor-owned utilities, brings a breadth of knowledge and understanding of business location criteria to help positively affect the long-term cost competitiveness of your business.
Ameren offers the following value-added development services to businesses considering a Midwest location:
Project management support in partnership with state and local development agencies.
Comprehensive community profiles.
Internet-based building and site inventory with GIS mapping capabilities.
Technical utility infrastructure and cost analysis.
Access to energy efficiency programs and qualifying incentives.
"At Ameren, we understand that growing companies must be agile, strategic in their business decisions and prudent in their investments," Kearney says. "Site selection decisions must be absolutely on target. Ameren's Economic Development team is focused on making connections throughout the bi-state region."
Built on a foundation of strong relationships and a common stake in sustainable community and regional development, Ameren brings a unique mix of resources including access to data and contact networks.
"Ameren is the ideal 'first stop' in the site search process for those looking for the right site, for the right value at the right time," Kearney says.