Show/Hide Search
Bahri
The National Shipping Company of Saudi Arabia

Engr. Ibrahim Abdulrahman Al-Omar
CEO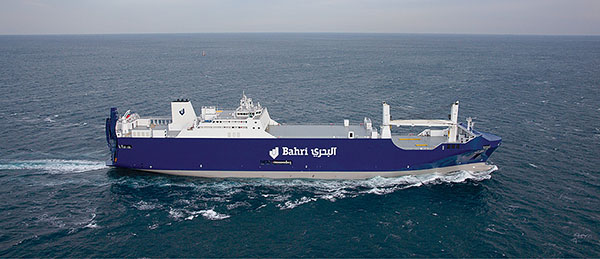 The National Shipping Company of Saudi Arabia (Bahri) General Cargo Sector provides ocean transportation in the North America, Middle East, India Subcontinent and Mediterranean corridor. The company views itself as a niche carrier with expertise in the business of RoRo and project cargoes. Bahri has been a leader in the North America-Middle East trade since 1979.
Project cargo, such as gas and oil exploration machinery, equipment for desalinization plants and apparatus for the construction of sub-electric stations, is Bahri's specialty. Safe and timely movement of project materials to the region contributes to a healthy, mutually-beneficial U.S.-Middle East trading relationship. A continual commercial presence with specialized ships, an extensive operations vendor network, and highly trained staff and crew has enabled Bahri to lead the market for more than three decades.
The RoRo vessels employed by Bahri's General Cargo Sector are specialized in carrying project cargo, breakbulk, automobiles, RoRo cargoes and containers. Our new, state-of-the-art, 26,000 deadweight-ton ships are equipped with two heavy lift cranes with 120 ton lifting capacity each and a 250 metric ton capacity RoRo ramp. This allows us to accommodate a wide variety of shipments.
Bahri distinguishes itself by providing excellent and personalized customer service. We offer frequent sailings, competitive rates and effective intermodal resources. Our value added prompt, courteous and accurate "back-room" services such as documentation, accounts processing, and flexible yet reliable scheduling meet all customer needs.
The National Shipping Company of Saudi Arabia (Bahri) is also active in the transportation of Crude Oil, Chemicals, Liquefied Petroleum Gas "LPG" and Dry Bulk, operating a fleet of VLCCs and chemical carriers in various corridors. The company strongly believes that expansion and continuous improvement of its services in the global logistics industry will not only improve the trade, but also contribute to the national economy and to the development of shareholder investment which are prime goals of the organization.