Show/Hide Search
DM Fulfillment

Greg Welchans
President & CMO
To be the preferred fulfillment partner for companies requiring highly efficient national distribution, Omni-Channel capabilities and value-add services that support brand reinforcement and the highest possible customer satisfaction levels.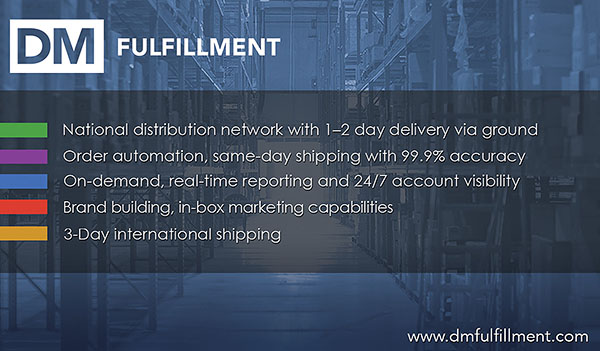 At DM Fulfillment, we pride ourselves on delivering value, reliability, innovation and trust as a fulfillment and distribution partner. Our mission is to deliver an outstanding customer experience to both our partners and their customers. We accomplish this through excellence in fulfillment, integration through technology, value-add services promoting your brand and focus on achieving the highest possible service levels.
Today's Omni-Channel world provides endless opportunity. But the logistics challenges can be overwhelming. Our investments in both direct integrations and through leading industry EDI providers will allow you to focus on growing your business within your current channels and expand, without restriction, into new channels.
National Distribution with Competitive Costs
Our four highly-automated distribution centers are strategically located to reach 99% of the U.S. in one to two days through economical ground shipping. Our system will optimize every order to select the best origin and carrier for the lowest freight cost and time in transit. Same-day shipping and order accuracy of 99.9% ensures customer satisfaction at the highest possible levels.
Technology Integration and Up-to-the-Minute Account Information
Our technology group can integrate our order entry system to your order management or ecommerce platform. In-house development staff and partnerships are in place to set up and receive electronic orders (EDI) from national providers. Information is real-time and all orders are 100% RF scanned for accuracy and efficiency. You can feel at ease knowing real-time reports are always available via our reporting portal, providing a comprehensive snapshot of your account.
Experienced Team and Leadership
The DM Fulfillment Client Services Team is a highly experienced and dedicated group of professionals focused on our customers and their needs. The team includes individuals experienced in onboarding new customers to transition your account with little to no disruption to your business. Each account has a dedicated account representative and a senior management advocate.
Brand Building Marketing Support
Reinforce your brand with custom packaging, branded pick tickets and print-on-demand, in-box marketing capabilities to deliver high impact, branded communications with your product shipments. Our full service marketing department, complete with in-house photo studio, can provide support for your marketing needs. Let us help you promote your brand and your products with every order.