Dupre Logistics, LLC

Reggie Dupré
CEO

Tom Voelkel
President and COO
Dupré Logistics is a team of professionals who design and deliver safe, diversified logistics solutions and services for quality-focused clients who are committed to increasing their competitive advantage.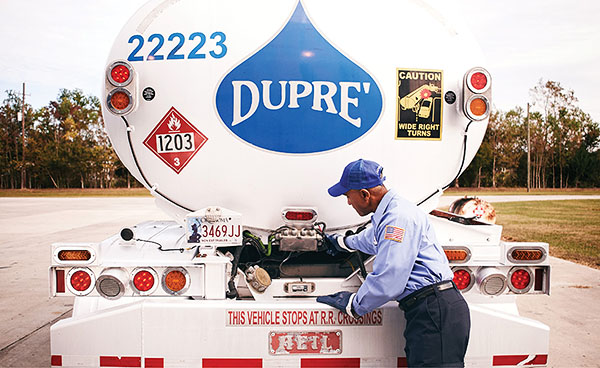 In this dynamic industry, Dupré Logistics knows that we must remain Forward Thinking. Since 1980, Dupré has been an innovator providing safe service, professional drivers and a deep understanding of our client's needs. As a leading logistics service provider of hazardous materials, Dupré makes sure that safety, improving operations and increasing YOUR competitive advantage are at the forefront of everything we do.
Safe Service
As a 2010 and 2014 recipient of the prestigious American Trucking Association's President's Trophy, Dupré is more than a leading hazmat logistics provider. We are a partner with our clients in risk reduction. In addition to receiving more than 70 safety awards since 2004; in the last 10 years, the Dupré Experience Modification Rate (EMR) has been at least 40% below the industry average. In fact, no customer has experienced a financial loss due to a Dupré safety issue in over 30 years.
The Dupré safety program is always looking for continuous improvement. In 12 years, the number of miles driven annually by Dupré drivers has increased 56%. At the same time, our severe accident rate has been reduced by 66%. We believe that every driver has an important role in our safety program. We are not only a partner in logistics, we take safety seriously… and it shows.
YOUR Competitive Advantage
Dupré ensures that we understand your business and logistics needs to increase YOUR competitive advantage. In the last ten years, we have recommended and implemented changes that have saved our clients millions of dollars. We work with you to lower your overall transport costs, and to fully understand your business processes not just the next transactional trucking opportunity.
Our Results-Based Supply Chain Process™ helps our clients eliminate invisible costs and enhance productivity and profits. Before signing a contract, our operations and logistics design teams work closely with our clients evaluating the business and the operating assumptions to make sure expected business results are on target.
In 2013, Dupré delivered over 19,000 loads every month directly from customer production lines without one shutdown. In fact, since 1980 no customer has ever had to shut down a production line due to a Dupré problem.
Capacity to get the job done.
Our drivers are well trained, safety-focused and paid hourly ensuring that not only will Dupré have the best drivers on the road, but that those drivers will maintain the high level of service our clients require. Our industry is challenged with a 100% turnover rate, but in the last three years, turnover at Dupré has remained below 30%. We guarantee capacity for our clients and face the ongoing challenge of driver capacity head on.
We have added over 200 hazmat drivers in the last 18 months in a market that has a shortage of more than 325,000 drivers. In the last three years, Dupré has provided over 31,000,000 miles of guaranteed driver capacity; 24 hours a day, 365 days a year, holidays and natural disasters included.
Our clients can be sure that a Dupré driver is one that has the experience and the background to safely and efficiently deliver their loads.
Always Forward Thinking
Dupré Logistics is looking farther down the road to give you and your business a competitive edge. We are problem solvers finding ways to provide safe service and the capacity to get the job done while increasing YOUR competitive advantage.
We can help you find a better way forward, whether it's through our Site & Private Fleet Services, Strategic Capacity Services, Crude Oil Gathering Services or our Energy Distribution Services. For a no obligation operational analysis, please contact our team.