Estes Forwarding Worldwide

Scott P. Fisher
President, CEO
Mission Statement:
EFW is an employee-centric, customer focused community of vested transportation professionals striving for strategic growth by providing innovative, consistent solutions delivered with passion and integrity.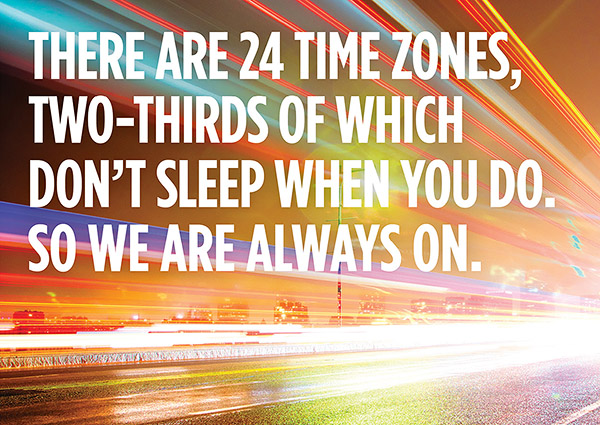 In today's 24/7 world, it's always business hours somewhere. So Estes Forwarding Worldwide is always on. That's the reason they put their personal cell phone numbers on their business cards.
When you're handed one, that person becomes your single source of contact, day or night. So while your goods may travel by a number of different forms of transportation, through a number of different time zones, you always have one single number to call to plan the journey or track the shipment.
As Scott Fisher, President and CEO of EFW, likes to say, "From the first day, our focus has been on the customers. We will give you the best experience each and every time you engage us. And that focus will never change." And it's that commitment to service that has made Estes Forwarding Worldwide a leader in logistic solutions across the globe.
What started as a single call center now has multiple locations: Richmond, VA; Norfolk, VA; New York, NY; Harrisburg, PA; Philadelphia, PA; Atlanta, GA; Jacksonville, FL; Chicago, IL; Dallas, TX; Houston, TX; Phoenix, AZ; Los Angeles, CA; San Francisco, CA; Tracy, CA and Cherryville, NC.
Estes Forwarding Worldwide offers a full range of global solutions—including air, ocean, ground and intermodal transportation—that few competitors can match. With access to provider assets and a direct relationship with Estes Express Lines, EFW is one of the very few companies that can guarantee capacity with no size limitations.
EFW has the dedicated truckload, global (including licensed customs house brokers), home delivery, automotive, retail, trade show and government services teams that companies require. This allows you to be confident in your dedicated EFW team of experts. Also they provide their customers with a suite of on-line shipping tools that exceeds the needed flexibility in today's ever-changing financial climate. Modern business demands multiple options and EFW provides a multitude of service levels to work with your business requirements.
But no matter what logistic solution you need, EFW's goal is to always offer the ultimate customer experience. "We never say no to a customer," says Scott.
It's no wonder why Estes Forwarding Worldwide provides dedicated resources to train and retain employees for the long run. Five of the original six who founded the company are still there and continue to grow the company based on one simple philosophy, "Provide the best solution for the customer."
This has worked for EFW since 2003 and will continue to moving forward. And like everyone else in the company, they are always on.