GP Desarrollos
Fernando Fuentes Urbieta
GP Desarrollos Director
Services Portfolio:
Site Selection
Design, Engineering and Construction
Project Management
Property Management
Maintenance
Product Portfolio:
Industrial Parks
Inventory Buildings
Built to Suit & Lease Projects
Distribution Centers
Office Buildings
Shopping Malls
Vertical Residences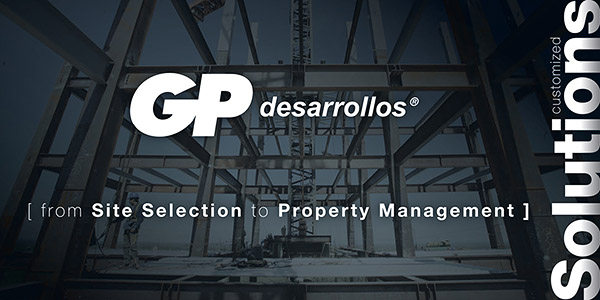 GP Desarrollos is Mexico's leading real estate developer for logistics and manufacturing facilities with over 4 million square feet built and land reserve over 2,000 acres available in strategic locations such as Nuevo León, Aguascalientes, Tamaulipas and San Luis Potosí.
Our parent company, Grupo GP founded in 1986 decide to meet global market dynamics in the need for space and compliance with upscale features for investment. As a result, GP Desarrollos became responsible for creating Mexico's first northeastern region industrial park, detonating opportunities for both domestic and foreign direct investment, today resulting in a solid client portfolio ranging from logistics and manufacturing to financial services and software development.
Over the years, GP Desarrollos has been an active member of key organizations such as AMPIP (Mexican Association of Private Industrial Parks), ADI (Real Estate Developers Association) and CMIC (National Construction Industry Chamber) with a strong commitment of contributing to regional socioeconomic development.
Competitive Advantages
Technical Capabilities: Your solutions are altogether within our walls. This means we do not outsource construction or property management services like most of developers would, therefore we achieve maximum efficiency combined with local market knowledge that sets industry standards to deliver on time results.
Guaranteed Quality and Sustainable Projects: Our construction segment has almost 50 years of experience with global companies and international standards compliance, nowadays aiming to specialize in LEED certification projects. On the other hand, when it comes to Property Management, the company's facilities are maintained in accordance to the industry's highest standards certified by:

NFPA (National Fire Protection Association)
ASHRAE
ISO 9001
TUV SUD

Strategic Alliances: The company's leadership and growth has outlined expansion plans and partnerships with world class real estate & financial institutions such as Clarion Partners, enhancing the company's capacity and financial stability to execute high complexity projects and improve market share in key locations.
Corporate Social Responsibility: Essentially, corporate responsibility is a self-regulation process integrated into our business model to ensure support for quality of life, ethical standards and community involvement. With this, our business embraces responsibility for the impact of its activities on the environment and stakeholders, also encouraging public interest in community growth and development, voluntarily avoiding practices that could harm the public sphere.

GP Desarrollos
Zaragoza sur #1300
Level A1-Suite 112
Monterrey, N.L, México
Toll Free from USA:
1-844-4666-GGP
www.grupogp.com.mx