Kentucky Cabinet for Economic Development
Business is Electrifying in Kentucky

Larry Hayes
Secretary
Mission Statement:
The Kentucky Cabinet for Economic Development is the primary state agency in the Commonwealth responsible for encouraging job creation and retention, as well as new business investment in the state. The Cabinet is committed to enabling the success and growth of Kentucky's existing businesses, attracting new businesses to Kentucky and facilitating the start-up of small business ventures by consistently providing outstanding service, programs and results that exceed expectations.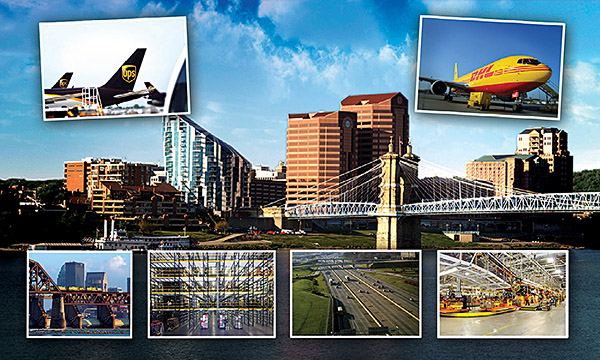 Kentucky delivers the whole package
With excellent air, highway, rail and river assets, Kentucky is an important link in the world's distribution chain. Located at the center of a 34-state distribution area, Kentucky's location advantages facilitate the distribution of goods and materials to a massive industrial and consumer market.
Global cargo hubs create distribution mecca
Kentucky has two major air-cargo delivery hubs operated by DHL and UPS. Their presence gives Kentucky a lot more than jobs. They serve as a catalyst for dozens of other technology and logistics-based companies to locate or expand operations in Kentucky. Companies know they'll have easy access to shipping to the worldwide marketplace.
UPS' Worldport at Louisville International Airport is the largest fully automated package-handling facility in the world. The operation turns more than 130 aircraft daily, processing an average of 1.5 million packages a day. UPS chose to locate Worldport, its global logistics hub, in Louisville based on several important factors, including proximity to population centers, the airport's strong record for staying open in inclement weather, the community's quality of life, and the willingness of city and state government to work together.
DHL's U.S. hub at Cincinnati/Northern Kentucky International Airport (CVG) in Northern Kentucky handles about 90 percent of the DHL shipments that enter the United States. DHL Express U.S. specializes exclusively in international shipping for importers and exporters, employing more than 2,000 workers at CVG, where 78 flights operate daily, connecting shipments across the United States and around the globe. DHL is currently undergoing a major expansion, including the addition of a new sorting facility and upgrades to its existing 520,000-square-foot facility.
Rivers, Roads, Rail
With ports on the east and west coasts getting more and more congested, many international shippers are looking for alternative routes into—and out of—America's heartland. Kentucky provides that alternative.
Kentucky has about 1,100 miles of commercially navigable waterways, providing an expedient two-way route between inland markets and major ports on the Gulf of Mexico. The Ohio River alone flows 664 miles along the northern border of Kentucky. Seven public riverports operate facilities at Henderson, Hickman, Louisville, Lyon County, Owensboro, Paducah and Wurtland.
Back on land, Kentucky is served by an exceptional highway system that includes Interstates 24, 65, 75, 64, 71 and 69, four interstate bypass loops, and a network of limited-access state parkways.
Numerous railroads also serve Kentucky with 2,760 miles of track, including 2,299 miles of Class I track. Railroads operating in the state include CSX, Norfolk Southern, Canadian National Railway Company, and the Paducah and Louisville Railway. The state also offers regional and local distribution networks of shortline railroads and intermodal freight facilities.
By highway, river, rail, or air, Kentucky offers unique advantages for transportation, distribution, and export, and provides new opportunities for capitalizing on North American markets and global trade. It's easy to see why so many companies have already chosen the Bluegrass State for their global transportation needs.