Show/Hide Search
Matson

Matt Cox
President and CEO
Mission Statement:
To move freight better than anyone.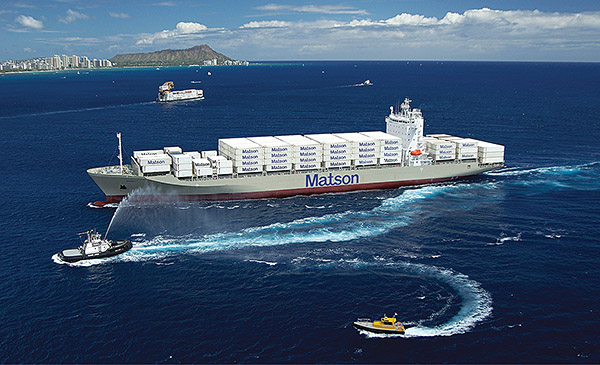 A leader in Pacific shipping, Matson's ocean transportation service is recognized for its industry leading on-time arrival performance and award- winning customer service. Its diversified fleet features four newly-built containerships, as well as combination container and roll-on, roll-off vessels and specially designed container barges. Matson's ships and assets are U.S.-built, U.S.-crewed and U.S.-operated, which provide significant advantages in the integrated trade lanes of the company's operations.
Serving Hawaii continuously since 1882, Matson is uniquely experienced in carrying the wide range of commodities needed to support island economies. Matson provides a vital lifeline to the island economies of Hawaii, Guam, Micronesia and select South Pacific islands, and is a key component of the distribution systems for island businesses, allowing customers to rely on the company's dependable vessel schedules to continually replenish inventories.
Matson's China-Long Beach Express has established a strong reputation in the Transpacific trade for reliable, expedited service from Xiamen, Ningbo and Shanghai to Long Beach, consistently delivering the best transit times in the trade and offering next day cargo availability on the West Coast.
All of Matson's Pacific services are further enhanced by the vast transportation network of the company's subsidiary, Matson Logistics. Matson Logistics is a leading provider of multimodal transportation services to the North American market, including domestic and international rail intermodal service, long haul and regional highway brokerage, supply chain services and LTL transportation services, as well as third-party logistics services that encompass warehousing, distribution, and international freight forwarding.
Matson Logistics serves a broad range of customers and industries with customized transportation solutions and award-winning service.
Contact Matson Logistics for all of your logistics needs:
Domestic rail intermodal service
International rail intermodal service
Long haul and regional highway truckload service
LTL transportation
Specialized hauling, flatbed and project work
Dedicated and seasonal warehousing and distribution
Transloading, cross-dock services, and value-added packaging services
Network analysis and freight management services
End-to-end supply chain services
At Matson, customer satisfaction is our top priority. We're firmly committed to providing our customers with industry-leading service wherever their transportation needs take them.