Network Global Logistics

Scott Riddle
President & CEO
Corporate Mission:
While setting the highest quality standards in the industry we aim to develop long lasting partnerships with our customers by offering business solutions that are flexible, exceed expectations, provide value and create peace of mind.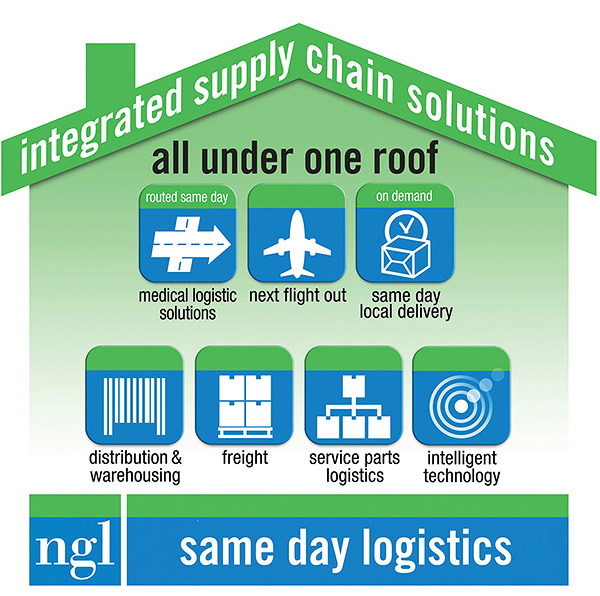 Network Global Logistics is a specialized third party logistics provider who provides integrated global supply chain solutions with core areas of focus in global next flight out, medical logistic solutions routed same day delivery, same day on demand local delivery, service parts logistics, warehousing fulfillment and distribution, and freight management.
With over 5 million square feet of distribution space, over 550 Forward Stocking Locations worldwide, 3500 contracted couriers and leading edge technology, Network Global Logistics is your answer when you need a scalable partner for your toughest supply chain and transportation challenges.
We pride ourselves on the reliability of our services. We offer a 99.5% on-time arrival rate measured to the minute. We are flexible by leveraging our deep domain expertise in order to provide our customers with solutions to their specific challenges. Our information technology is a competitive advantage by ensuring real time visibility and control for our customers.
Founded in 1971, find out why more customers than ever are selecting NGL for same day delivery, eCommerce fulfillment, service parts logistics, distribution and urgent transportation solutions.
Services offered:
Routed Same Day Medical Logistic Solutions
On Demand Same Day Local Delivery
Global Next Flight Out
Service Parts Logistics
Distribution & Warehousing
Freight Management
Intelligent Technology
Visit us at www.nglog.com.