Show/Hide Search
NFI

Sidney R. Brown
Chief Executive Officer
Mission
We free each of our customers to focus on their core business by managing commerce and "delivering the goods."
Our people make our solutions seamless through their uncompromising commitment to excellence and their can-do spirit.
Values
Integrity
People
Customer Service
Entrepreneurship
Performance
Social Responsibility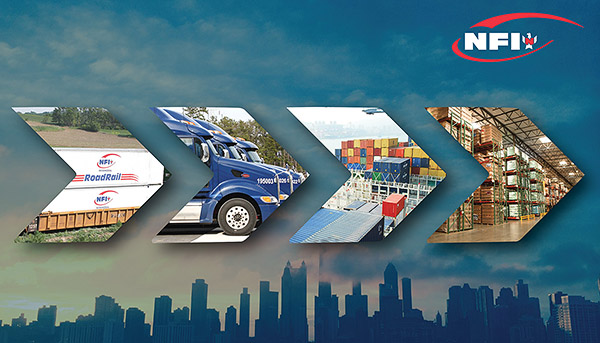 Overview
Since 1932, NFI has been a leader in providing supply chain management services across numerous industries. NFI engineers customized solutions for every step of the shipping process that your business requires. Our services are tailored to meet all of your business needs and are executed safely, reliably, and efficiently.
Dedicated Transportation
With an expert team driven by a commitment to customer service, NFI customizes its dedicated transportation service for your dynamic business needs. As NFI continues to add drivers, tractors, and trailers, you can be reassured that you will have consistent capacity across your operation.
Distribution
Whether your company focuses regionally or has international reach, NFI's distribution services are tailored to you. Our experts utilize NFI's 22+ million sq. ft. of warehousing space across North America to customize a solution that addresses your unique supply chain goals.
Cross-Docking
With close coordination between transportation and distribution and continuous information flow from manufacturers to stores, NFI's cross docking expertise ensures your goods and materials reach their destination efficiently and on time.
Brokerage & Transportation Management
The NFI brokerage team knows the marketplace and is your source for finding qualified carriers to move your freight in a reliable and timely manner. Every brokerage customer receives a dedicated representative who will know the specifics of your business and will be available around the clock.
Intermodal
NFI is a leading provider of dry and refrigerated intermodal services. Our innovative refrigerated intermodal containers can ensure that refrigerated or frozen goods are transported at temperatures as cold as -10 degrees. NFI's strategic rail partnerships and company-owned drayage assets provide end-to-end solutions for your freight demands.
Global
Staffed by experts who are knowledgeable in international transactions, NFI's global team takes a personal approach to your air and ocean shipments by guaranteeing excellent operations on schedule and on budget. With proprietary supply chain technology, Global Connect, you will have complete visibility and clear communication for all your international shipments.
Real Estate
NFI approaches real estate solutions with your supply chain goals in mind. With this operational expertise, we can locate, develop, and construct a state-of-the-art facility that accommodates your needs and maximizes flexibility for future expansion opportunities.