Pacific Coast Warehouse Company

Jim Marcoly
President
Mission Statement:
Our mission is to meet or exceed customer requirements by supplying On Time, Complete and Damage Free Warehousing and Distribution Services.
Discover California, Discover PCWC
If your company needs a logistics partner in the West for you or your customer's needs, please contact us at 909-545-8100 x237 or visit www.pcwc.com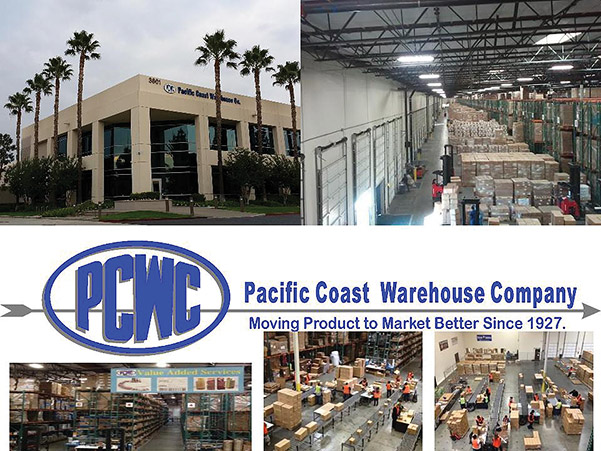 Pacific Coast Warehouse Company dates back over eighty five years and has clearly become one of the finest distribution organizations in the Western United States.
We are currently operating over 700,000 square feet of space in Southern and Northern California. Our facilities are of the highest quality concrete tilt-up construction, with rail service and complete sprinkler and alarm protection. Our ASI award-winning sanitation programs, complete code date tracking and stock rotation are all integral parts of our service.
In handling the distribution needs of each of our customers, we approach each situation as a very real member of that company's distribution team. We are continually looking for ways to improve our operation in terms of both logistics and productivity, with the end result being lower costs to our customers. Our many years of service to our respected clients certainly confirm our success in these efforts.
Pacific Coast Warehouse Company complies with all safety, health and environmental practices required by our clients and by law. To ensure on-going regulatory compliance, Pacific Coast Warehouse conducts regular training programs and each of our operating sites undergoes routine audits. We also invite local fire marshals to visit and inspect our operations, and we receive additional scrutiny by OSHA, insurance representatives, and our other clients' personnel.
Distribution
Public Warehousing
Inventory Management
Food Grade DC's, fully racked to ensure your product's integrity all the way to end user
Alcohol Permits to store and distribute Beer, Wine & Spirits
Separate Hazardous Material and Chemicals DC where we are NACD members.
Extensive experience in Retail/Import, Apparel & Electronics
Transportation
In-house Drayage Services
Freight Consolidation
Direct Store Delivery (DSD)
On-Site Fulfillment
Co-pack & Packaging
Labeling
Shrink Wrapping
Carton Packaging
Floor Display
Technology Benefits
Client Specific Solutions
EDI Services
RF Web Based Reporting
E-Commerce
WMS