Port of Seattle

Ted J. Fick
CEO
Mission Statement
The Port of Seattle plays a key role in bringing international commerce, transportation and travel to the Pacific Northwest. As one of the largest cargo handling ports in the United States, the Port of Seattle is responsible for providing tens of thousands of family wage jobs to the Puget Sound region, and also supports industries as diverse as tourism and commercial fishing. The port offers the lowest carbon footprint for cargo shipped by sea from Asia to major markets in the Midwest and East Coast, making us the Green Gateway for trade. Environmental stewardship is a high priority, and as a result can offer trading partners a port that is clean, energy efficient and improving every day.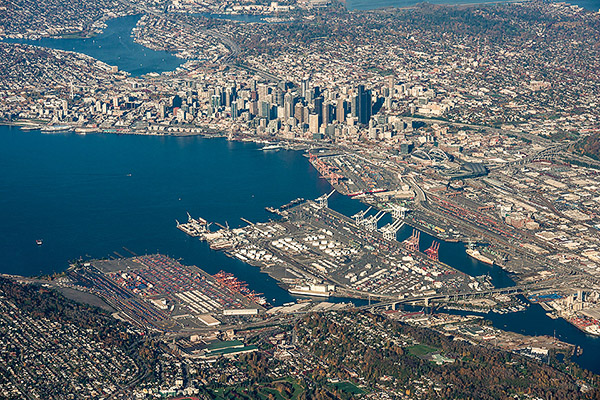 The Port of Seattle's Seaport is one of the most diverse in the United States. It is home to a wide range of maritime activities that bring trade to the region and generates thousands of jobs. The seaport is made up of 1,543 acres of waterfront land and nearby properties including container terminals, general purpose/cargo terminals, foreign, break-bulk cargo and refrigerated cargo and storage. The Port of Seattle also operates Sea-Tac International Airport which ranks 21st in air cargo volume in North America. The Airport has approximately 680,000 square feet of leasable space in 15 airside buildings and more than three million square feet of aircraft ramp space.
Highlights of the Port of Seattle's Seaport include:
Naturally deep water port
Four container terminals, one barge terminal, and one multi-use facility
Access to two Class 1 railroads and two major interstate highways
500+ acres of terminal facilities
8,000 ft of moorage
40-acre grain facility
Efficient intermodal infrastructure
22 ocean carriers with direct service to Asia, Europe, Latin America, and domestic markets (Alaska and Hawaii).
13 Super post Panamax cranes, including 6 of the largest in North America, and 11 post Panamax cranes
Grantee for Foreign-Trade Zone #5
The Port of Seattle is one of the 10 largest container ports in the United States. Over $1 billion has been invested in terminal and road infrastructure to handle expanding volumes, and collaborative, business friendly relationships are maintained with a robust customer base. To speed cargo through Port of Seattle facilities, the following services are offered:
Weekly ocean service to Asia, Europe, Latin America, the Mediterranean, Middle East, Africa, Oceania, and beyond
On-dock and near-dock rail
Automated terminal gate technology for efficient turn-around
Bulk trans-load facilities adjacent to terminals
Environmental sustainability with no additional fees
A strong working seaport is vital to the economic health of King County and Washington state; four in ten jobs in Washington state are tied to international trade. Our Seaport is instrumental in producing family-wage jobs that are a key driver of job growth and economic development.