Port of Tacoma

John Wolfe
Chief Executive Officer
Mission Statement:
To deliver prosperity by connecting customers, cargo and community with the world.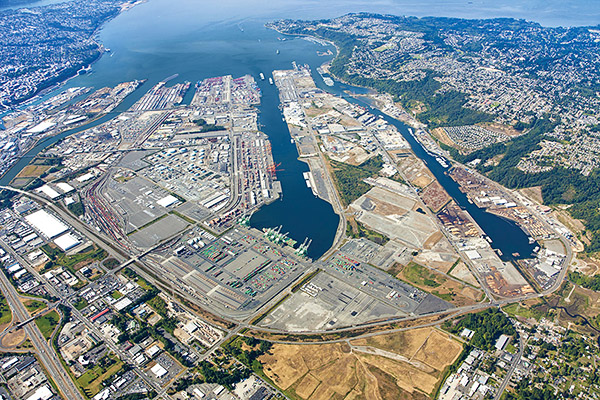 As a major gateway to Asia and Alaska, and one of the nation's top 10 container ports, the Port of Tacoma combines strategic location with a focus on efficiency, reliability and customer service to make it easy for shippers to get business done. Nearly 1.9 million TEUs moved across port docks in 2013. In addition to containers, we are also a major center for bulk, breakbulk and project/heavy-lift cargoes, and automobiles.
Located on Commencement Bay—a naturally deep-water harbor in the northwest corner of Washington State—Port of Tacoma has more than 2,700 acres of land for shipping terminals, logistics and manufacturing activities. Outstanding intermodal operations, international and domestic rail service from two transcontinental railroads (BNSF Railway and Union Pacific Railroad) and easy access to Interstate 5 and major highways make the Port an ideal location for warehouse, distribution, and transload operations.
Facilities: We are big ship ready. The Port features six deep-water container terminals (-51 ft. MLLW at berth). Sailing times are one day shorter to and from Asia than California ports.
Global Connections: Fifteen leading international container carriers offer thirteen liner services to over 50 ports of call in Asia, Europe, Central & South America and Oceania.
Rail Service: Early 5th morning service via BNSF Railway and the Union Pacific to key destinations in the Midwest and Ohio Valley. Both railroads offer fast and convenient domestic service from the Pacific Northwest. Short-haul rail service between Tacoma and Portland gives customers added flexibility and more service options.
Real Estate: Over 2,700 acres; developed and undeveloped sites available for water-dependent and non-water dependent uses in an area zoned port maritime industrial only. We offer competitive lease rates less than the regional average for prime property near Port facilities. Home to FTZ #86, the second largest Foreign Trade Zone on the U.S. West Coast.
Logistics: More than 20 transload and cross-dock facilities operate near Port terminals, most with rail-access. We are also located within 20 minutes of the Kent Valley, the second highest concentration of warehouse and distribution centers on the U.S. West Coast.
Ease of Doing Business & Value: Recognized as #1 in both categories in the 2014 Logistics Management Quest for Quality Awards among U.S. West Coast ports.