Show/Hide Search
Seaboard Marine
William Wascher
Chief Executive Officer
Mission Statement
To be the leader in ocean transportation and logistics to all the markets we serve. Our existence, progress and success depend on our customers. By creating a positive environment where our employees can work in partnership with our customers, large and small, we shall provide the highest quality service without exception.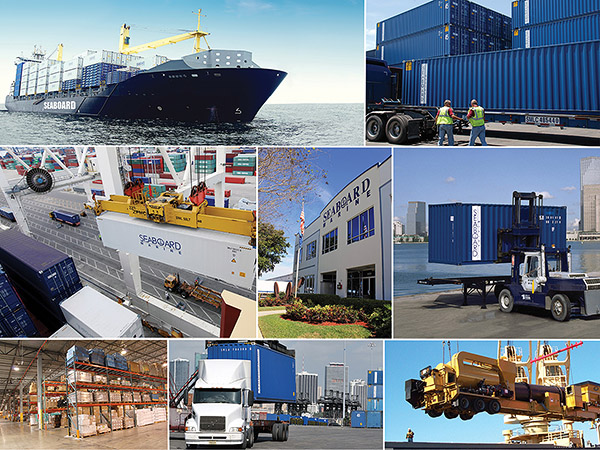 Established in 1983, Seaboard Marine is a wholly owned subsidiary of Seaboard Corporation. We are an ocean transportation and logistics company that provides direct, regular service between the United States and the Caribbean Basin, Central and South America.
Seaboard Marine plays an important role in promoting trade in the Western Hemisphere.
Our success in the region for over three decades has enabled us to gradually expand into new markets. We now serve nearly 40 ports in over 25 countries. Seaboard Marine's facilities include a private terminal of more than 85 acres at PortMiami. We carry more cargo to and from PortMiami than any other carrier. Although this facility complies with and exceeds all governmental security mandates, it operates seven days a week, 365 days a year, a unique convenience of our customers.
Seaboard Marine has successfully initiated services from other U.S. ports. We now offer weekly services to Chile, Peru, Ecuador, Venezuela, Trinidad, Colombia and all of Central America from Houston. We operate our own 62-acre terminal in Houston, Jacintoport, which has a similar hi-tech security system as PortMiami. We also proudly serve Central America weekly from New Orleans. In addition, Seaboard Marine provides weekly service to Jamaica, Haiti, and the Dominican Republic from Brooklyn, New York.
Seaboard Marine's fleet of over 40 vessels and nearly sixty thousand (60,000) dry, reefer, and specialized containers supports direct service between the U.S. and major ports of call throughout Latin America and the Caribbean. Our reliable fixed-day schedules make it simple for customers to coordinate manufacturing schedules and maintain inventories at cost-efficient levels. Convenient schedules, outstanding customer service, and an expanding fleet of ships both commanded and managed by a company of dedicated professionals, has become the trademark of Seaboard Marine.