South Carolina Ports Authority

Jim Newsome
President & CEO
The South Carolina Ports Authority owns and operates public seaport facilities in Charleston, Georgetown and Greer, facilitating 260,800 jobs statewide and nearly $45 billion in economic activity each year. At the Port of Charleston, the SCPA offers two container facilities—frequently cited as the most productive in North America—and three mixed-use facilities. Long term, Charleston is building the only new, permitted port facility under construction on the East Coast, and the facility will infuse an additional 50% in container capacity at the port.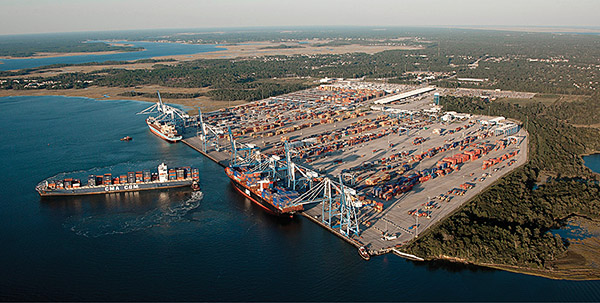 South Carolina's efficient seaports stand ready to meet your cargo needs, no matter what you've got to move. With multi-use facilities in Charleston, Georgetown and Greer, SC Ports Authority is well-equipped to handle any type of cargo: container, breakbulk, wheeled, overweight, oversized or loose. We're ready to work with you to deliver customized business solutions for your shipping needs.
As the deepwater hub of the Southeast, the Port of Charleston is ready to link your post-Panamax supply chain today. Charleston offers the deepest channels and harbor in the region, handling 10 weekly ships of more than 5,500-TEU capacity drafting up to 48 feet. Short transit times to the port's five marine terminals, each within two hours sailing time from the open ocean, preserve vessel schedule integrity and minimize the risk of canal penalties or missed berthing windows at other ports. Daily intermodal rail service and our RapidRail dray system connect our terminals with rail hubs across the Southeast and beyond. And an overnight rail service to the South Carolina Inland Port in Greer extends the Port of Charleston's reach 212 miles inland, giving shippers access to 94 million consumers across the Southeast within a one-day drive.
Efforts to further deepen Charleston's harbor to 52-feet and expand turning basins and the entrance channel to 54-feet are well underway. Our harbor deepening project is being expedited by the Administration, and the state share of construction cost is fully-funded by the South Carolina Legislature. We expect to realize this additional depth by the end of the decade.
In addition to Charleston's container-handling capabilities, the port delivers on breakbulk. With four multi-purpose terminals, experienced staff and heavy-lift equipment—including the new barge-mounted crane—Charleston is ready to handle any sized load. Access to interstate highways for oversized moves further highlights Charleston's cargo-handling capabilities.
Beyond serving your needs today, SC Ports Authority is growing and modernizing its facilities with a $1.3 billion capital plan. The Navy Base Terminal, scheduled to come online in 2019, is currently the only permitted container terminal on the East Coast and will boost the port's container capacity by 50%. Additional near-term structural and technology upgrades for our facilities ensure that our modern ports are capable and ready to grow along with you.

South Carolina Ports Authority
PO Box 22287
Charleston, SC 29413-2287
Marketing & Sales Phone: 843-577-8101
Fax: 843-577-8710
www.scspa.com