Show/Hide Search
Wagner Logistics
The Wagner Way
The Wagner family founded the company on the principle that every customer is a big deal. The Wagner Way continues to permeate in our integrity of actions and genuine customer service focus.
Our can-do culture engenders a certain mindset that we believe fosters a distinct competitive advantage for our clients: We want to tackle your biggest, most complex supply chain challenges. Whatever it is, whatever it takes. We say, "Bring it."

Honored fourteen years in a row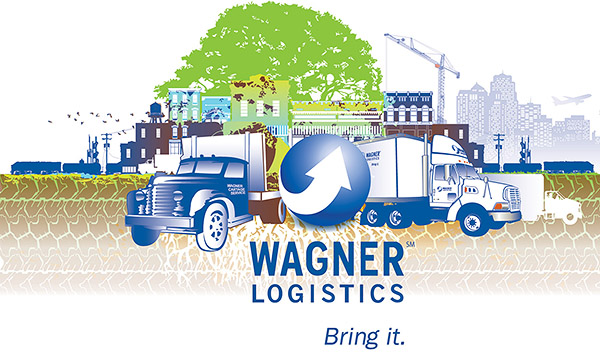 Who We Are
Wagner Logistics has been tackling unique supply chain challenges since 1946. Whether it's inventory issues, new market entry, expanding or utilizing speed-to-market capabilities—Wagner has you covered!
A premier 3PL provider offering dedicated warehousing, transportation, packaging and fulfillment services across the United States. Wagner customers enjoy greater speed-to-market at lower cost, at every stage, from manufacture to mass consumption.
Wagner's operation utilizes a tier-one warehouse and transportation management system that can be deployed at multiple customer sites. Our IT team uses their cutting-edge technology to quickly set up in any location, increasing our speed-to-market capabilities.
We provide customers the freedom to focus on their business core competencies.
Transportation
Wagner Logistics is small enough to care about your freight but large enough that numerous Fortune 500 companies trust us to deliver as needed throughout North America. Our team can take on small projects, thousands of loads, or any job in between. Assets are deployed when consistent volume demands consistent capacity. Longstanding partnerships with house carriers extend our reach and deliver superior customer service. Wagner ensures our customers' transportation needs are met strategically and cost-effectively.
Warehousing
As a nimble lead logistics provider, we build flexible leases and enter new markets to meet customers' needs in today's fast paced environment. Our detailed speed-to-market process will show how we respond quickly to unique warehousing needs and exceed expectations every time. We can locate it, obtain it and run it.
Fulfillment
Through a proven process, our multi-channel fulfillment operations can take on any size project. We pick, pack, and ship everything from multiple truckloads a day going to big-box retailers all the way to individual specialized pieces. Our Advance Ship Notice (ASN) and compliance with retailer routing guides allows you to feel confident Wagner has it covered!
Packaging
We can be an extension of your product line—connecting the dots between your business and the ultimate consumer. Wagner continues to provide quality value-added services to our customers and has been for decades—that means faster delivery, quicker turnarounds, lower risk, and continued savings. We reduce your points of contact by collaborating with the strengths of manufacturers, big-box retailers and packaging design firms while giving you visibility into each project.