Weber Logistics

Daniel M. Frank
President
Mission Statement:
Weber Logistics connects growing brands to Western U.S. markets.
Founded in 1924, Weber is the leading provider of warehousing, transportation and import logistics services in the Western U.S.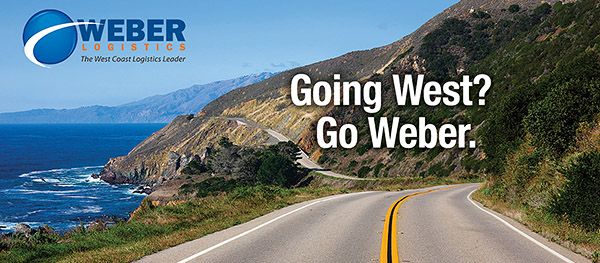 Weber Logistics provides growing companies in the CPG, food, retail, and chemical sectors with flexible distribution solutions for the Western U.S. No other 3PL—large or small, global or regional—can match Weber's market knowledge and logistics infrastructure in Southern California and the Western Region.
3 million square feet of space
Fleet of trucks, including temperature-controlled trailers, for next-day direct delivery within the region
Comprehensive import logistics services for LA/Long Beach
Warehousing Services
We operate dedicated and shared-use facilities in LA County, the Inland Empire, Northern California, and Arizona.
Vendor compliance services to minimize chargebacks
eCommerce fulfillment
Value-added postponement services and final packaging
Transportation Services
Weber delivers anytime, anywhere, on any mode. Our specialty: final mile delivery to grocery and mass retail stores and distribution centers in the region
Temperature-controlled delivery of food, beverage, and candy products
Pool distribution, including receipt of full truckloads, sortation by consignee, and final-mile delivery
Port Services
Weber's experience in West Coast port services helps get your imports to market faster.
Reliable, economical drayage service using a 100% clean truck fleet
Transloading of import containers for inland distribution
Industry Recognition
Weber is widely recognized for its innovative logistics work.
Inbound Logistics' Top 100 3PLs
Supply Chain Brain's 100 Great Supply Chain Partners
Logistics Management's Top 50 3PLs
Global Trade's Top 10 Temp-Controlled Warehouse Providers
Food Logistics' Top 3PLs and Top 100 Technology Providers
Going West? Go Weber.
If your company requires an experienced partner for a Western U.S. logistics project, let's talk.