Show/Hide Search
Werner Enterprises/Werner Global Logistics

Derek Leathers
President & COO
Mission Statement:
To deliver value to our customers, business partners and shareholders through leading-edge global supply chain solutions that exceed expectations and promote safety while we remain customer focused and asset-backed.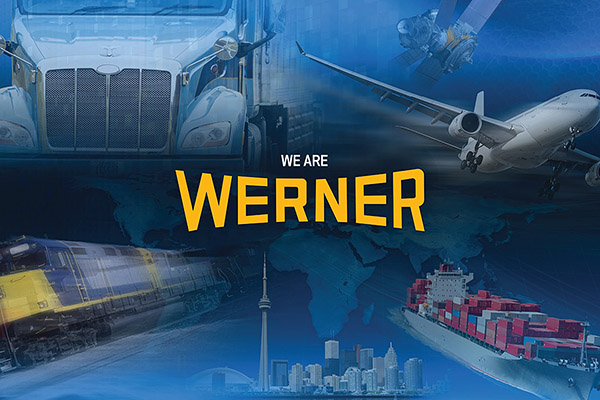 The Leader in Freight Transportation Innovation
Werner Enterprises offers a variety of freight management solutions for customers of all sizes and industry types. In nearly 60 years, the company has evolved from a one-truck operation to a full-service transportation and logistics provider with coverage throughout North America, Asia, Europe, South America, Africa and Australia.
From design through implementation, Werner Enterprises delivers complete freight management programs customized to meet the customer's unique needs. From project-sized initiatives to full-fledged single source freight management, Werner's customized programs provide its customers with a single point of contact, door-to-door visibility, integrated optimization technology and a full range of managed services.
Supporting the company's comprehensive solutions are Werner Enterprises' leading-edge technology, experienced professionals and extensive global network.
Freight Movement
Our portfolio of supply chain solutions throughout North America, Asia, Europe, South America, Africa and Australia is backed by our network of 7,100 trucks and 10,500 alliance carriers across all modes. This provides an assortment of movement options including:
Van: Long Haul, Regional and Expedited

Asset and alliance carrier solutions, covering 48 states, Canada and Mexico
Dedicated
Intermodal

Multimodal TOFC and COFC solutions serving North America utilizing all major rails

Ocean

Licensed NVOCC, freight forwarder and U.S. Customs Broker

Air

IATA airfreight forwarder with global contracts

Temperature-Controlled

Flatbed and Over-Dimensional Services

Power Only
Bulk
LTL
Warehousing
Supplier Diversity

Global Implementation

As customers have expanded overseas, Werner has developed logistics and cross border initiatives to support their needs. Werner Global Logistics provides seamless supply chain solutions and door-to-door services using one operating platform. This is achieved through our global network of offices and agents, a global shipment visibility platform, warehousing, cross-docking facilities, and road and rail capabilities, which are all supported by Werner's own assets.

Werner was recognized as one of the first North American companies to receive combined approval to operate as a wholly owned foreign entity in freight forwarding, ground transportation, logistics, trading and NVOCC services in China.

Technological Advantages

Throughout all initiatives, domestic or global, Werner's freight management programs are strategically implemented with the company's proprietary software to provide customers visibility, capacity loading and timely deliveries. By integrating leading-edge technology with our comprehensive solutions, Werner is able to provide complete supply chain continuity.

Werner Enterprises
Global Headquarters
14507 Frontier Road
Omaha, NE 68138
800.228.2240
www.werner.com
Werner Global Logistics (Shanghai) Co., Ltd.
South 23/F Harbour Building
1 Fenghe Road
Shanghai, China 200120
Phone: 86.21.3887.9520