A&R Logistics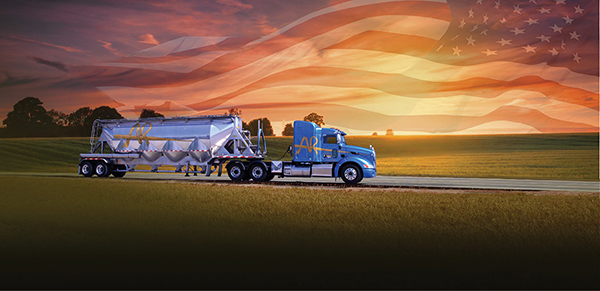 Doing it Right
A&R Logistics, Inc. is a leading provider of dry bulk transportation, warehousing & packaging, distribution, and third-party logistics solutions to numerous multinational companies within the chemical and plastic industries. We are growing fast to accommodate the massive expansion in U.S. manufacturing.
More than any other dry bulk trucking and logistics company, we are committed to Doing It Right. We have made substantial investments in infrastructure, technology and safety to ensure that we meet our customers' needs, with assets, goods and reputations intact.
In an industry where very few are able to keep up, A&R stays ahead of the curve without cutting corners.
A&R Transport: The Number-One Dry Bulk Carrier in the Plastics Industry
For the trucking industry, needs have evolved dramatically. So have we. We have an extensive network of owner/operators and company drivers, trained extensively to ensure that transport needs are safely and efficiently accommodated.
For decades, A&R Transport provided comprehensive bulk-trucking, packaging and warehouse solutions for the plastics, resins and agro-products industries.
With a fleet of over 800 trucks and 1,200 trailers we are in a unique position to support our customers during a period of unprecedented growth. In addition to our substantial infrastructure on the ground, we're backed by $1 billion in private equity to meet our customers' needs.
A&R Warehousing & Packaging: 2 Million Square Feet and Counting
We're far more than just a trucking company; we're a $235 million company with 2 million square feet of infrastructure. With ten facilities nationwide and more than 1,700 rail-car positions, we support everything from packaging through distribution—with expansions planned and in-progress.
We've upgraded warehousing and packaging technology across the nation to improve the efficiency of our operations. With a brand-new Dover system in Morris, Illinois, we can package one million pounds PE or PP product per day, during our two-shift operation. Our rail-car facility in San Bernardino, California is equipped with our own rail technicians who track all daily inventories of transloading activities, electronically verifying and physically inspecting the cars to improve productivity and enhance safety.
Inventory tracking
Super Sacks
Boxes/Gaylord
Dry Storage
Sea Bulk Loading
Drayage
Transloading
Export Solutions
A&R Global/3PL
In addition to transport and warehousing services, we provide end-to-end outsourced transportation management through our 23 terminals, 10 warehouse facilities and a network of company-owned equipment and owner-operators.
Global Logistics
Transactional Brokerage
Carrier Management
Transportation Management
International Freight Audit/Payment
Safety is Where We Live
We've invested millions of dollars into our Safety First culture. We've aggressively implemented programs and practices to ensure safe and efficient operations at all times. Well in advance of coming mandates, our fleet is 100 percent e-log compliant. And our CSA scores are consistently strong—currently at their best since the 2010 program rollout.