Evans Network of Companies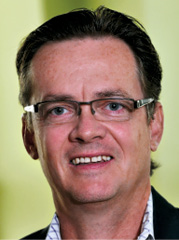 Matthew "Bo" Bates
President and CEO
Mission Statement:
Our corporate mission is to continue to grow as a vital force in the transportation and logistics industry, and to provide superior logistical services and support to our customers. We are a winning team of capable leaders, associates and agent partners who respond quickly and efficiently to change and are able to adapt aggressively to the customer's needs.
The Evans Network of Companies is a market-leading logistics partner with revenues totaling over $480 million and a fleet of over 3,100 power units and 185 terminals throughout the country, providing transportation services in the port drayage/intermodal, flatbed, freight brokerage and van truckload markets. The Evans Network encompasses seven divisions: All Points Transport, Century Express, Commercial Transport, Drayage Express, Hale Intermodal Trucking, Evans Delivery Company, Land Transportation, Orion Intermodal, Polaris Intermodal, Phoenix Transit & Logistics, West Contract Services, 61 Transport and Regan Intermodal. The Network also includes two sister companies: DM Transportation and West Motor Freight of PA.
Headquartered in Schuykill Haven, PA, the company was founded in 1939 by Albert L. Evans, Sr. with two trucks handling LTL freight. In 1965 Albert "Bert" Evans, Jr. assumed the role of President and CEO and in January 2012, Matthew "Bo" Bates took over that role. Bo had joined his father-in-law at the family owned company in 1988 overseeing the newly acquired West Motor Freight of PA. At that time West Motor Freight, combined with Evans operated about 200 trucks in the northeastern United States. In 2002 he was named Executive Vice President of Evans Delivery Company and oversaw the integration of newly acquired Hale Intermodal. In addition to his role as President of Evans Network of Companies, Bates continues to serve as CEO of West Motor Freight of PA and Co-Chairman of DM Transportation Services.
The Evans Network of companies has been named in the Inbound Logistics Top 100 Motor Freight Carriers nine times and was a Top Ten Green Supply Chain Partner in 2011. Commercial Carrier Journal has ranked the company in the Top 250 Motor Carriers each year from 2008-2014 and Transport Topics Magazine has included Evans Network of Companies in the Top 100 For-Hire Carriers in 2010, 2011, 2012, 2013 and 2014. The Evans Network of Companies is the largest Drayage Carrier in the United States.
Industry Leader
A recognized industry leader in sustainability issues, Evans Network of Companies launched ECO-Match (Export Coordination/Optimization – Match) in 2009 to make more productive use of resources by matching up to 75% of import and export shipments handled by the company. Projects with importers, exporters and steamship lines have saved more than 125,000 gallons of diesel fuel and almost 3.0 million lbs. of CO2. Evans is a member of the EPA's Clean Air Act Advisory Committee representing the company and the Port Drayage Industry as well as many other industry and governmental coalitions.
Agent/Driver Focused
The Evans Network of Companies provides Agents and Owner-Operators with many advantages including a best-in industry fuel discount, Single Point of Contact sales, business workshops, CSA and Safety training and other support services. Agents attend an annual meeting featuring seminars and sales awards and each year one driver is awarded a Harley Davidson Motorcycle for an outstanding safety record.