Hoosier Energy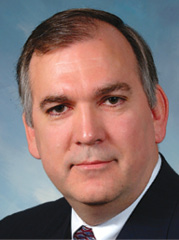 Harold Gutzwiller
Manager of Key Accounts and Economic Development
Mission Statement
To provide member distribution systems with assured, reliable and competitively priced energy and services in a safe and environmentally acceptable manner.
Hoosier Energy is a generation and transmission cooperative (G&T) with headquarters and system control center in Bloomington, Indiana. The G&T provides electric power and other services to 18 electric distribution cooperatives, which collectively meet the electricity needs of more than 800,000 residents, businesses, industries and farms.
Hoosier Energy, Indiana's first power supply cooperative, operates four power plants, two renewable energy plants and a transmission network that includes 1,700 miles of high-voltage lines, 18 primary substations and nearly 300 delivery points.
In addition, Hoosier Energy provides training, key accounts, marketing, communications and technical services to its member cooperatives. Hoosier Energy and its members are cooperative businesses that provide reliable, affordable electric power and carry on a long-standing commitment to improve the quality of life in our communities.
Our Commitment to Economic Development
Through Hoosier Energy's Economic Development's 2013 efforts, an estimated 1,245 new jobs and $150 million in capital investment was created in member territories. Because of this dedication and contribution to our counties' economic growth, the Hoosier Energy Economic Development program continues to be one of the Midwest's leading economic development organizations. 

The Indiana and Illinois economic development program at Hoosier Energy provides comprehensive economic development services throughout our service territory. Some of these services include:
Shovel-ready site listings
Electric usage cost estimates
Searchable business maps
Searchable sites and buildings maps
Personalized assistance.
Our Commitment to Quality, Reliability
To help assure a consistently reliable power supply, Hoosier Energy's power delivery system is connected to the regional power grid and interconnected with other utilities. As well, the power supply cooperative is a founding member of the Indianapolis-based Midwest Independent System Operator, which manages power flow, transmission reliability and power marketing throughout a 15-state region and parts of Canada.
Hoosier Energy is a Touchstone Energy® cooperative, part of a nationwide alliance of 650 electric cooperatives providing service with accountability, integrity, innovation and commitment to community. The power supply cooperative has been recognized nationally for its environmental stewardship and education programs, including an education center, free electronic lending library for educators, and community watershed conservation efforts.
Each of the power supply cooperative's members elects a representative to the Hoosier Energy Board of Directors, which develops policies and reviews the co-op's operations. The chief executive officer and his staff carry out day-to-day management of the organization, directing a work force of more than 460 employees.

Hoosier Energy
P.O. Box 908
Bloomington, IN 47402
Direct: 812-876-0294
Cell: 812-360-4796
Fax: 812-876-5030
Hoosiersites.com
Hepn.com