Syfan Logistics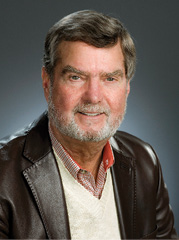 Jim Syfan
Chairman
Who We Are: Syfan Logistics is an asset-based transportation logistics company providing a diverse array of shipping needs throughout the continental United States, Mexico and Canada.
Mission Statement: We will provide our customers a competitive advantage through superior transportation and logistics services. We will consistently strive to meet and exceed our customers' expectations of service through timely communication and quality information.
Vision Statement: We seek to be a guiding light of ethics, integrity and Christian faith in our service to the transportation industry.

Expanding its fleet of trucks and technology
Asset-based Syfan Logistics understands that shippers today want greater transparency and reliability when it comes to transporting their products across the country. That is why the company continues to invest in greater technology and communications while steadily expanding its versatile fleet of Syfan Transport trucks and equipment.
A 24/7 operation, Syfan Logistics has grown into one of the leading logistics companies in the United States. Inbound Logistics and Transport Topics magazines have both recognized the company in their national rankings of the top logistics providers in America.
Primary cargo insurance on every load
With its own fleet of trucks, Syfan Logistics is a full-scale, asset-based logistics management company. It serves the most demanding shipping needs for temperature-controlled, dry van or flat bed loads with on-time pickup and delivery throughout the continental United States, Mexico and Canada.
Syfan also goes the extra mile by backing every load with primary cargo insurance – a commitment practiced by only a small percentage of the industry.
Deep roots in hauling refrigerated foods
Based in the heart of the U.S. poultry industry in Georgia, Syfan Logistics is well-versed in hauling deadline-sensitive, perishable food products. The company works extensively with the nation's largest foodstuffs companies in the poultry, seafood, confectionary, cereal and soft drink industries.
Syfan brings this same experience and commitment to on-time delivery to its non-food customers, including the world's largest package-delivery companies as well as the expedited divisions of America's major automotive manufacturers.
Key services
Syfan Logistics provides a comprehensive range of key services:
Syfan Transport: Syfan Transport's truck fleet is supported by several hundred trailers – dry vans, flatbeds and temperature controlled. This year's expansion of this division will provide even greater accessibility to equipment – around the clock and across the country.
Syfan Expedited: For the highest priority loads with the most demanding delivery schedules, no one in the industry has more experience in expedited logistics. Syfan's long history with JIT shipping for automotive manufacturers and small parcel air loads has forged a unique sensitivity to deadline-oriented product shipping. When others say "no," the only answer you'll hear from Syfan Expedited is "yes."
Third-Party Logistics: For shippers faced with a sudden spike in shipping volume or the occasional spot load, Syfan Logistics is able to fill those emergency gaps with its vast and reliable pre-qualified team of core carriers.
Freight Management Services: Syfan Logistics also can manage a company's entire shipping program with these Freight Management Services:
Bidding and procurement
Carrier realignment
Order consolidation/load optimization
Load execution
Spot market management
Dedicated fleet
The bottom line for customers is significant cost savings through greater operational efficiencies.
Industries:
Food and Beverage
Parcel
Automotive
Manufacturing
Healthcare
Construction materials
Retail/Consumer products
Electronics
Paper products