Alaska Railroad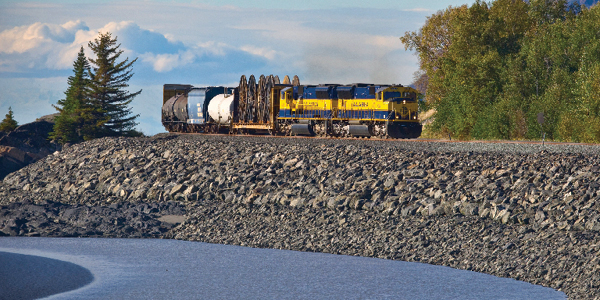 Alaska Railroad can move your shipment to Alaska from anywhere in the contiguous U.S., Canada or Mexico. We can also arrange for pickup at origin and delivery at destination for non-rail served customers.
Project & Construction Freight: Alaska Railroad offers delivery to remote, off-the-rail construction sites, and can get your materials (lumber, structural steel, building materials, bridge girders, piling, etc.) to the job site on time and within budget.
Oil & Gas Field Supplies: Alaska Railroad transports pipe from all major suppliers in the contiguous U.S., Canada and Mexico and from overseas sources through a dock in Seward, Alaska. Beyond pipe, the Alaska Railroad shoulders drilling muds, compounds and bulk chemicals, modular units and other oil field related equipment.
Mining: Alaska Railroad transports all types of equipment and commodities to support aggregate, coal and placer mining operations, including ability to transport mining chemicals and compounds, machinery, blasting agents and steel grinding balls.
Trailers & Containers: Alaska Railroad offers scheduled, overnight train service from Anchorage to Fairbanks (and reverse route). Intermodal traffic arrives in our yards from individual companies, trucking and steamship lines.
Bulk Commodities & Hazardous Materials: Alaska Railroad has hauling capabilities to transport raw and refined petroleum products, LNG, coal, aggregate, hazardous materials, chemicals, cement, fertilizers, and more.
Rail Marine Service: Alaska Rail Marine offers a combination rail-water-rail service to transport your freight to/from Alaska and the contiguous U.S., Canada and Mexico. Railcars are rolled onto rail-equipped barges in Seattle and rolled off in Whittier, Alaska, with no need to transload. It's affordable and efficient—minimizing transfers, damage and shrinkage. Weekly departures to/from Seattle and Alaska.
Year-round ice-free ports:
Laydown/storage areas: