Bahri
The National Shipping Company of Saudi Arabia

Engr. Ibrahim Abdulrahman Al-Omar
CEO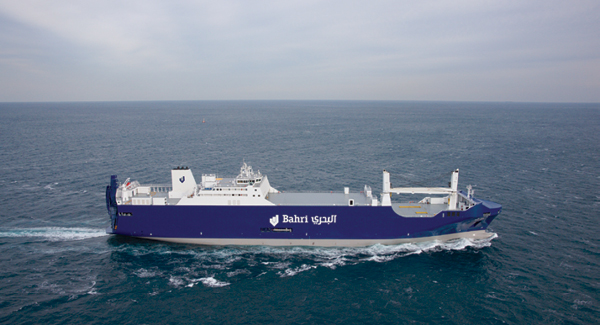 As a pioneer unit of Bahri, with more than 38 years longevity, Bahri Logistics is one of the very few marine transportation companies offering a full liner service between North America and the Middle East.
Operating six (6) modern multipurpose vessels – (4) vessels connecting the United States, the Kingdom of Saudi Arabia and major ports in the Gulf, Indian Sub-Continent and Mediterranean and (2) vessels connecting Europe, to the Kingdom of Saudi Arabia and key ports in the Gulf and Mediterranean, Bahri Logistics views itself as a niche carrier focusing on optimal cargo mix while specializing in "underdeck" storage capability.
Bahri Logistics also manages a container service yard facility at Jeddah Islamic port in Saudi Arabia to handle its containers, and has invested in a new IT system to integrate ports, agents and offices to provide superior customer services. A vast network of offices and agents located around the globe facilitates the variety of services Bahri Logistics provides its clients.
Bahri was formed by a Royal Decree in the year 1978 as a public company with 22.5% ownership held by the Public Investment Fund "PIF" of the Saudi Government, 20% by Saudi Aramco Development Company, and the remainder widely held in public shares by Saudi Nationals and investors.
Bahri has grown from a small shipping firm operating multipurpose vessels into one of the biggest shipping conglomerates in the world and occupies a pre-eminent position among its industry peers at national, regional and international levels in all sectors of its business operations. Throughout its history, Bahri's services have been expanded to include transportation of general cargo, crude oil, chemical, liquefied petroleum gas "LPG" and dry bulk.
Having initially begun its operations strictly for transporting general cargo and containers, Bahri with its extensive track record, has garnered a reputation for providing a superior level of service to customers in all sectors.
Bahri owns and operates 36 VLCCs, including one VLCC designated as a floating storage unit, 4 MRs and 1 Aframax, 26 chemical carriers through Bahri Chemicals, a subsidiary established in partnership with SABIC, 5 dry-bulk carriers operated by Bahri Dry Bulk (BDB), a subsidiary established in partnership with ARASCO. Also 10 new VLCCs under contract will be delivered between 2017 and 2018.