CaseStack, Inc.

Dan Sanker
CEO
Vision Statement:
CaseStack provides collaborative logistics infrastructure that empowers clients to confidently dominate their market with consistently better supply chain performance and lower total costs.
Regional Consolidation Centers:
Buena Park, CA
Atlanta, GA
Chicago, IL
Scranton, PA
Dallas, TX
Kent, WA
Toronto, Canada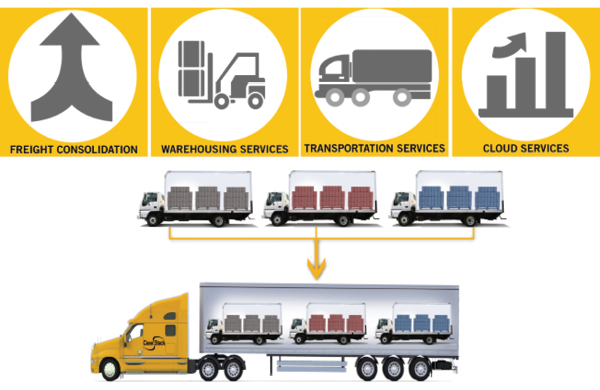 Retailer Consolidation Programs
Retailer Consolidation Programs CaseStack, the industry leader in collaborative retail consolidation programs, supply chain management, and integrated warehousing services, reduces costs for consumer goods companies worldwide. CaseStack collaborates with customers, using our expertise and strategic supply chain relationships offering consolidation of less-than-truckload (LTL) shipments to full outsourcing of our clients' comprehensive supply chain network.
CaseStack provides each of our clients with customizable and scalable supply chain solutions. We work diligently to maintain partnerships through collaborative and innovative programs that are designed to fit each supplier's unique distribution needs.
CaseStack's supply chain solutions transform small to midsize CPG companies into worthy adversaries of the largest Fortune 500 companies.
How Freight Consolidation Works
CaseStack combines supplier's weekly purchase orders through our network of consolidation centers or via a cross-dock program. By matching up customers' purchase orders, destined for the same retailer, CaseStack is able to offer proportional full truckload pricing instead of costly LTL rates.
CaseStack, Inc. consolidates weekly purchase orders to the following retailers: Walmart, Kroger, Sam's Club, Target, Costco, Whole Foods, Publix, Safeway, H-E-B, Ralph's, Roundy's, Supervalu and many more throughout the U.S. and Canada.
Supplier Benefits:
Increased on-time performance
Improved on shelf availability
Reduced order cycle times
Improved retailer scorecard
Decreased inventory costs
Sustainable solution
Retailer Benefits:
Improved in-stock rates
Shorter lead times
Eliminate order minimums
Decreased dock congestion
Reduced inventory costs
Increase supplier competition
CaseStack, Inc. Proprietary Technology Platform
CaseStack is a step above the industry standard with our innovative and proprietary Warehouse Management System that allows full data security and 24/7 visibility of your entire supply chain processes.
CaseStack is able to ensure that customers' data is protected with redundant servers and an off-site data recovery system ready to keep your logistics operations running smoothly. With a business continuity plan surpassing that of Fortune 500 companies, CaseStack's systems offer redundancy and reliability that is second to none.
Our web-based platform (WMS) gives clients the ability to:
Place orders
Track shipments
Monitor SKU levels
Specify item and order attributes
Dictate inventory levels
Forecast future needs
Manage billing and claims