CN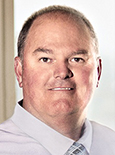 Keith Reardon
Vice President-Intermodal
"I'm proud of our intermodal team and our commitment to bringing great service to our customers. A fluid and efficient supply chain is what they expect from us, and that's how we measure our success. Whether importing, exporting or just shipping locally, we have the right people, the port and terminal partnerships in place, and the logistics expertise to keep things moving."
CN is a leader in the North American transportation services industry focused on supply chain innovation and collaboration. We offer integrated shipping solutions, including rail, intermodal, trucking, freight forwarding, warehousing and distribution.
Whether you're shipping across CN's rail network of more than 32,000 kilometers, shipping globally through the many ports we service on three coasts, or leveraging well over 21 strategically located intermodal terminals across our network, we connect you with the people that matter most: your customers. CN has the only rail network that touches three coasts in North America, accessing the Atlantic, Pacific and Gulf coasts. Our strategically placed intermodal terminals give you easy access to over 75% of the U.S. markets and all Canadian markets.
At CN, we work together with our customers to ensure that their products get to market as efficiently as possible. We recognize that when they grow, we grow. So we work hard with our supply chain partners to innovate, create and implement solutions that seek to drive sustainable, long-term growth for our customers. We've put in place ground-breaking Service Level Agreements to open communication between CN and our port partners. These agreements allow us to improve your total supply chain from vessel to rail, trucking, warehousing, distribution and everything in between.
CN plays a key role in fostering the prosperity of the North American markets we serve and is therefore a true backbone of the economy, transporting approximately C$250 billion worth of goods annually. CN is an indispensable transportation supplier for many key sectors in North America, from grain and forest products to industrial products and the automotive sector, moving raw materials, intermediate goods and finished products to market. With our extended reach to the markets and manufacturers of Asia and the rest of the world, CN is also a key gateway for North America's participation in the global economy, helping you win in the markets where you compete.
For CN, efficiency and safety are paramount. Last year, CN invested $1.6 billion in track and roadway infrastructure. These expenditures involved replacing rail ties and other track materials, as well as bridge improvements. CN also invested $55 million in two dedicated safety facilities in Winnipeg and Chicago, CN Campus. This is where our railroaders learn safety culture, with the skills and practices they need to build that culture up for future generations. We understand the importance of strong infrastructure in building a safe network with fast, fluid cargo movement for our customers.

CN
Montreal (Headquarters)
935 de La Gauchetière St. West
Montreal, Quebec, Canada
H3B 2M9
Sales: 1-888-MOVIN CN
www.cn.ca