FedEx Supply Chain

Art Smuck
President & Chief Executive Officer
Mission Statement
From sales and demand planning to fulfillment and everything in between, FedEx Supply Chain understands how to make all of your business components work together. By implementing our comprehensive logistics solutions, you can focus on critical business issues that differentiate your organization, while we focus on creating a successful product ecosystem.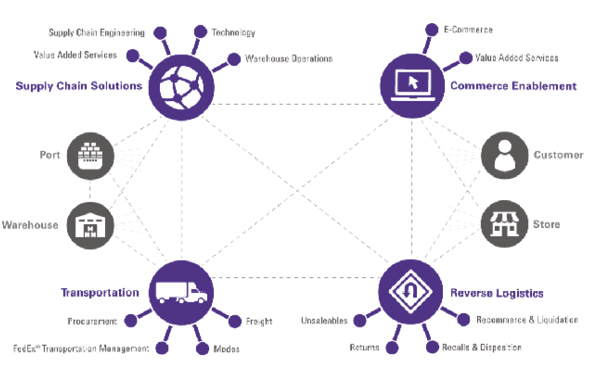 Founded in 1898, GENCO, now FedEx Supply Chain, developed a strong reputation by delivering commodities to businesses. Over the years, our vision to provide innovative, integrated supply chain solutions made us a leader in value-added warehousing and transportation services. As a FedEx Supply Chain customer, you'll benefit from the combined strength of GENCO and FedEx — logistics expertise and a global transportation network.
Innovation and Technology
Many businesses have turned to us to help them become more efficient and productive, gain a competitive advantage, and exceed customer expectations. Our experts continuously develop and apply new technology and innovative supply chain solutions. From our proprietary and patented technology to our implementation of top-tier warehouse management systems, our advancements help solve industry-specific business challenges.
FedEx Supply Chain By the Numbers
11,000+ team members
130 warehouse and distribution center operations in North America
358 million returns processed annually
508,000 direct-to-consumer shipments daily
35 million sq ft of warehouse space under management
Our Approach to Lean Management
Your business is built on innovation, execution and excellence. You need a 3PL that can help you identify new ways to add value for your customers, maximize efficiency and deliver on your promises.
FedEx Supply Chain is committed to delivering superior service on your behalf. We've formalized this approach in Quality Driven Management (QDM) by melding the best aspects of the top philosophies, including Lean Management, Six Sigma and Total Quality Management, into a rigorous, yet flexible, scientific approach to quality. By putting QDM to work for your business, you'll benefit from lean business practices, continuous improvement and quality assurance.
Discover the Full Value of Your Supply Chain
Logistics plays a major role in helping you grow, transform and optimize your business, but today's supply chains are too complex and interconnected for any one solution to suit all of your needs. For your company to reach its full potential, it requires best-in-class solutions designed to solve distinct challenges. FedEx Supply Chain has the experience, expertise and culture of innovation to help your company overcome its biggest challenges.