J.B. Hunt Transport Services, Inc.

John Roberts
President and CEO
Mission Statement
We forge long-term relationships with key customers that include supply-chain management as an integral part of their strategy. Working in concert, we drive out cost, add value, and function as an extension of our customers' enterprise.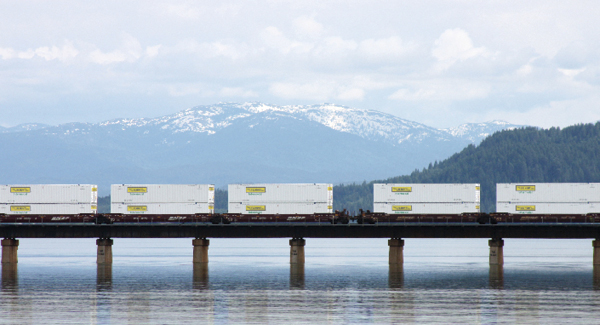 Our Services
J.B. Hunt, a Fortune 500 and S&P 500 company and Inbound Logistics Top 10 3PL, utilizes an integrated, multimodal approach to provide customer-oriented shipping solutions. Each solution is centered on delivering unparalleled value and industry-leading service. J.B. Hunt 360 is a complete transportation management solution for shippers and carriers, providing improved workflows, tighter integration, and mobile capabilities. We further combine our assets with capacity available from more than 50,000 transportation providers, representing more than 910,000 pieces of equipment and ensuring our customers get the capacity they need, even in difficult market conditions.
Included among our service offerings are
Intermodal: Our intermodal solution utilizes the most extensive rail network and the largest company-owned container fleet (more than 82,000 units) in North America. Intermodal services combine integration of best-in-class service with fuel efficiency, priority routing, and seamless coordination of rail and over-the-road transport movements to deliver single billing for complete door-to-door service.
Dedicated Contract Services: Our Dedicated Contract Services division offers design, development, and execution of customer-specific fleet solutions. These dedicated designs are customized with guaranteed capacity, industry-leading service levels, optimum efficiency, and costs-saving management.
Truckload: Our over-the-road offering has been the proven leader in truckload transportation for decades. Our company-owned fleet of tractors, combined with access to tens of thousands of transportation providers, ensures ample capacity. Over-the-road covers more lanes than ever before, provides specialized equipment, and combines innovative technologies with experience.
Final Mile: Our Final Mile service combines experienced, highly trained drivers with specialized equipment and technology to provide full delivery visibility and safe, reliable transportation, right to the front door of your home or business. We provide dedicated solutions using independent carriers or our employees, operating the largest asset-based, commingled delivery network in the country.
Less-Than-Truckload (LTL): Our LTL solution provides efficiency throughout an organization by offering the flexibility of LTL, expedited LTL, and consolidation services.
Temperature control: Our customizable solutions offer both temperature-controlled Intermodal, Dedicated, and Truckload service, providing a network of thousands of safe, reliable carriers, such as roll-door and multi-temperature units.
Flatbed: Our flatbed solution includes heavy haul, step deck, removable gooseneck, and curtain side equipment.
Expedited and team: We offer solutions to expedited and specialized needs ranging from dual-driver protection to trade show services, all with critical care and 24/7 customer service.
Specialized: A variety of solutions for specialized equipment is available, including forklift flatbeds, boom trucks, delivery vans, multi-axle equipment, and others.
Single source: Utilize our suite of scalable enterprise services in a single, integrated management system. Put control of the entire supply chain at your fingertips.
For more information, visit www.jbhunt.com.