Landstar System, Inc.

Jim Gattoni
President and CEO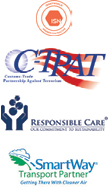 Landstar's network of independent sales agents and transportation capacity providers offers greater flexibility and a local presence that has a global reach. The Landstar network is unmatched in the industry. With more than 1,100 independent agents, 9,000 leased owner operators, 14,000 trailers and 44,000 other available capacity providers, we have the flexibility and experience to find a solution to your transportation challenge.
Truckload Van: Whether your load requires our 53-foot trailers or a cargo van, we've got you covered for the short or long haul.
Heavy Haul: Our vast array of specialized equipment includes: flatbeds, stepdecks, double drops, extendables, multi-axles, steerables, lowboys with 40-80 ton capacity, RGN units, Schnabels, beam, perimeter and blade trailers.
LTL: Landstar agents have inside access to industry leading LTL capacity providers to deliver on-time, cost-effective, less-than-truckload van and flatbed service.
Border Crossing: Landstar provides door-to-door service across all major border crossings into Mexico and Canada.
Hazmat: All of the owner-operators leased to Landstar are required to obtain and maintain hazmat certification. Landstar enforces stringent compliance codes that go beyond what state and federal laws require.
Other Services:
Expedited and Emergency
Temperature Controlled
Air Freight
Ocean Freight
Rail Intermodal
Project Cargo
Customs Brokerage