Maine Maritime Academy

Dr. Donald D. Maier
Dean, Loeb-Sullivan School of International Business & Logistics
Maine Maritime Academy
The mission of Maine Maritime Academy is to provide a quality education focused on marine and related programs. The curriculum will empower students to take on leadership roles, encourage rigorous self-discipline, promote curiosity, and provide graduates with the skills, ethics, and knowledge needed to succeed in the global economy.
Loeb-Sullivan School
The Loeb-Sullivan School is committed to specialized programs in global logistics and related fields. The school strives to develop leadership in our graduates by developing competence, instilling confidence, and creating professionalism in core business areas, as well as promoting innovative thinking, social responsibility, and hands-on experience.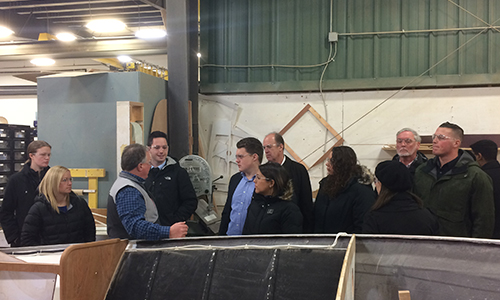 The Loeb-Sullivan School of International Business & Logistics
The Loeb-Sullivan School of International Business & Logistics offers three Master of Science degrees; the On Campus MS in Global Logistics & Maritime Management, the Online MS in International Logistics Management, and the Master's & Commander program, which offers the opportunity to earn a Master's degree Online in Maritime Management combined with a selected On Campus component from the Undergraduate Small Vessel Operations (SVO) program to earn an opportunity to complete the USCG exam for the 200 Gross Ton Mate Near Coastal license.
These graduate programs prepare students for the challenges of managing the logistics of global supply chains from both a strategic and operational perspective. Our graduate programs encompass the ability to analyze and evaluate the flow of goods, customer service, finances, and information from the supplier's suppliers to the ultimate consumer. The curriculum emphasizes concepts and theories in the fields of global marketing and sourcing, inventory, distribution, and transportation management as well as the supporting economics and accounting. Students study logistics in the context of a supply chain management philosophy in addition to the set of operational processes that can optimize the international supply chain. Our M & C students also take the SVO courses necessary to complete the USCG exam for the 200 Gross Ton Mate Near Coastal license.
Using a variety of pedagogy from case studies, course projects, experiential learning, and traditional seminars, graduates are grounded in general management capability preparing them to contribute strategic and organizational efforts toward effective supply chain management. This enables our graduates to effectively lead logistics and supply chain organizations on a course in a global economy. Our M & C candidates will also have the added hands-on knowledge that will enable them to become successful mariners.
Explore each of our graduate programs, career options, and course descriptions:
On Campus Global Logistics & Maritime Management
Online International Logistics Management
Master's & Commander
For additional information, please contact Patrick Haugen: patrick.haugen@mma.edu, 207-326-2212
Click here for the On Campus application
Click here for the Online Program application
Click here for the Master's & Commander Program application