Matson

Matt Cox
President and CEO
Mission Statement:
To move freight better than anyone.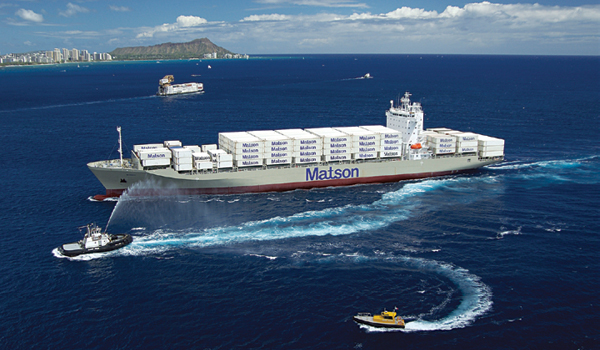 A leader in Pacific shipping, Matson's ocean transportation service is recognized for its industry leading on-time arrival performance and award- winning customer service.
Its diversified fleet features four newly-built container- ships, as well as combination container and roll-on, roll-off vessels and specially designed container barges.
Matson's ships and assets are U.S. built, owned and operated, which provides significant advantages in the integrated trade lanes of the company's operations.
Serving Hawaii continuously since 1882, Matson is uniquely experienced in carrying the wide range of commodities needed to support remote economies.
Matson provides a vital lifeline to the economies of Hawaii, Alaska, Guam, Micronesia and select South Pacific islands, and is a key supply chain provider allowing customers to rely on the company's dependable vessel schedules to continually replenish inventories.
Matson's China-Long Beach Express has a strong reputation in the Transpacific trade for reliable, expedited service from Xiamen, Ningbo and Shanghai to Long Beach, consistently delivering the best transit times and offering next-day cargo availability on the West Coast.
Matson's Pacific services are further enhanced by the transportation and distribution network of the company's subsidiary Matson Logistics, a leading provider of freight transportation, warehousing, and supply chain services to the North America market.
Matson Logistics serves a broad range of customers and industries with customized supply chain solutions. Services include:
Long haul and regional highway truckload and LTL service
Domestic rail intermodal service
International rail intermodal service
Specialized hauling, flatbed and project work
Contract and public warehousing at key East and West Coast ports
Value-added packaging services, light assembly, and product customization
Web-based supply chain visibility and management
NVOCC services
Customer portal for fast and easy access to rate, book, and manage freight
As evidenced by numerous industry and customer awards, Matson is firmly committed to operational excellence and providing its customers with the highest possible levels of service across all modes of transportation.
Learn more at matson.com.