NFI

Sidney R. Brown
Chief Executive Officer
Mission
We free each of our customers to focus on their core business by managing commerce and "delivering the goods."
Our people make our solutions seamless through their uncompromising commitment to excellence and their can-do spirit.
Values
Integrity
People
Customer Service
Entrepreneurship
Performance
Social Responsibility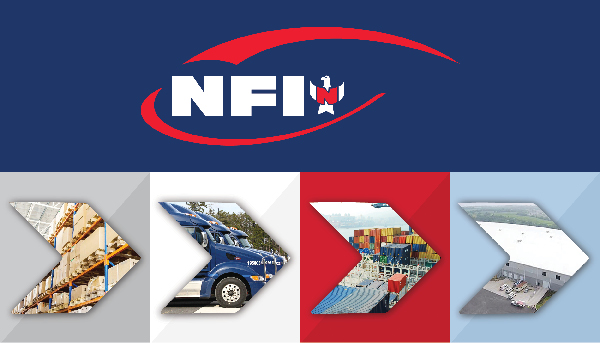 Overview
Since 1932, NFI has been a leader in providing end-to-end supply chain management services across numerous industries. NFI engineers customized solutions for every step of the shipping process. Our services are tailored to meet your business needs and are executed safely, reliably, and efficiently throughout the world. Our entrepreneurial power inspires our people to create value for our customers' businesses.
Distribution
Whether your company focuses regionally or has international reach, NFI's distribution services are tailored to you. Our experts utilize NFI's 31+ million sq. ft. of warehousing space across North America to customize solutions that address your unique supply chain goals. Our distribution centers, cross-docks, and fulfillment centers are fully customized and dedicated to meet your unique specifications. Our value-added services offer the flexibility to accommodate special orders, sudden changes, seasonality, promotional displays, or any other needs your inventory must respond to. NFI creates solutions to optimize your supply chain so you can focus on what you do best.
Transportation
With an expert team driven by a commitment to customer service, NFI's unique set of asset-based and non-asset based transportation solutions provides you with options that can be integrated and customized to best address your needs. As NFI continues to add drivers, tractors, and trailers, you can be reassured that you'll have consistent capacity across your operation. NFI continues to provide best-in-class transportation solutions through our experience with dedicated fleets, brokerage, transportation management, intermodal, drayage, and global transportation.
Global Logistics
Staffed by experts who are knowledgeable in international transactions, NFI takes a personal approach to your air and ocean shipments by guaranteeing excellent operations on schedule and on budget. With end-to-end solutions, NFI provides you with the global rates, service, systems, and solutions global shippers need. As a global expert, NFI works to understand your business and provide support at every turn of the global distribution and freight forwarding journey.
Real Estate
NFI approaches real estate solutions with your supply chain goals in mind and understands what it takes to run a modern distribution facility. NFI leverages its operational expertise to create a better model for real estate development. With this operational expertise, NFI can locate, develop, and construct a state-of-the-art facility that accommodates customer needs and maximizes flexibility for future expansion opportunities.