Paragon Software Systems, Inc.

William Salter
President & CEO
"Here at Paragon we remain committed to developing, implementing and supporting software solutions that meet the real needs of today's transportation operators. We feel that our great software offering, when combined with our fantastic team of dedicated and committed people, is what has made us so successful throughout our 30 year history and makes us a valued software partner to so many companies all over the world."
Our services
Single Depot
Multi Depot
Integrated Fleets
Route Execution
Paragon HDX
fleXipod EPOD system
Business Modelling Tools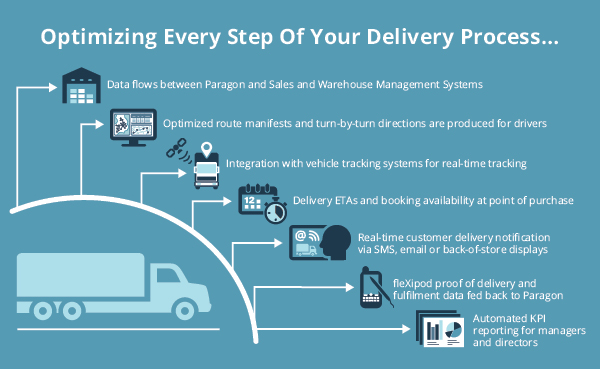 Paragon Software Systems, Inc., based in Dallas, Texas, is a leading provider of truck routing and scheduling software solutions.
Paragon's advanced planning systems have been proven to cut transportation costs and improve efficiency and customer service across a wide range of distribution operation types and industry sectors. Whether you are a 3PL looking to identify savings for a new customer, or you manage your own fleet, we have a solution for you.
Established since 1997, Paragon has over 3,400 systems installed at more than 1,100 client sites in 60 countries worldwide. The software is used for the daily route optimization of transportation schedules; rationalizing fixed routes; managing transportation resources; strategic logistics planning; and managing home delivery orders with dynamic routing.
Paragon's clients include George's Inc, AgReliant Genetics, The Dufresne Group, The Linde Group, McLane, National Food Corporation, Tesco, Sainsbury's, IKEA and Argos.
Telematics integration
In addition to our core route optimisation products, our Route Execution software helps improve routing and scheduling planning accuracy and real-time responsiveness by using live tracking data from in-cab devices. Paragon's routing and scheduling software is already integrated with 35 different vehicle tracking systems.
Omni-channel fulfillment
For retailers looking to manage their omni-channel fulfilment, Paragon has designed a comprehensive suite of home delivery management and route optimization products. Paragon HDX helps retailers and service organisations gain a competitive edge with continuous optimization at the point of order.
With every new order, Paragon HDX analyzes all the existing deliveries scheduled, resource availability and route planning parameters, then calculates the best delivery time to offer your customer within seconds. The route optimization system ensures all promised time windows remain feasible, switching deliveries to different trucks or changing the drop sequence to guarantee the routes remain optimized and the truck arrives at its destination at the right time.
Paragon Software Systems, Inc. is a wholly owned subsidiary of Paragon Software Systems plc, the UK's number one provider of transportation routing and scheduling software.
Get in touch with our team of experienced routing and scheduling professionals to find out how we can help you.