SATO America

Tim Cook
VP of Sales and Operations
Mission Statement
Headquartered in Charlotte, North Carolina, SATO America is the national sales, service, consumables manufacturing and marketing entity for SATO Corporation in North America.
A leading provider of Auto-ID solutions connecting people, goods and information. Serving a diverse range of customers across North and Central America, Mexico and the Caribbean.
The company's extensive product line encompasses:
Thermal printers
RFID smart printers
RFID and thermal labels and tags
High speed laser printers
Label design software
Handheld labelers
Genuine SATO labels and ribbons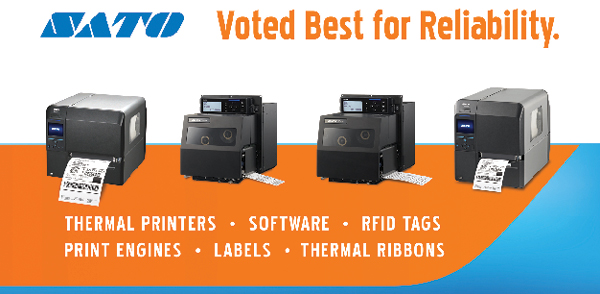 Inventory must be managed effectively for the prosperity of any business. Instrumental to the success of this process requires the best technology for printing and labeling. SATO Print and Label Barcode RFID Solutions are ideal for asset tracking in manufacturing, warehousing and supply chain logistics.
The process of inventory identification and tracking can be tedious. SATO thermal barcode and RFID Solutions are the principle mechanisms to ensure detectability of inventory contents, case and cartons. Generating labels with accurate registration of barcode symbologies and reliable adhesion will effectively minimize costs and increase efficiencies throughout operations. SATO Print and Label Solutions are the ultimate component in a multitude of logistics and warehousing applications.
SATO Labeling Solutions precisely identify Location, Pallet, Individual Item, and Shipments:
Bin, Tote, and Rack Labeling
Cross Dock Labeling
Cautionary Labeling
Carrier Labeling
Product ID Labeling
Case/Carton/Pallet Labeling
FIFO labeling
Put-away Labeling
Freight Forwarded Labeling
Location Labeling
SATO is the world's leading manufacturer of Print Engines, Industrial Thermal and Laser printers, and RFID embedded tags and labels.
SATO America serves the retail, horticulture, healthcare, industrial, transportation, logistics, government sectors, and many more verticals. SATO solutions including RFID enable businesses to identify, track and manage people, products, and assets.