ShipHawk

Jeremy Bodenhamer
Co-Founder and CEO
Our mission is to empower real people and real businesses to grow and to thrive in an increasingly competitive world. ShipHawk's TMS 2.0 optimizes supply chains and reduces shipping costs. ShipHawk customers process millions of shipments worldwide. Our HQ is in Santa Barbara, CA.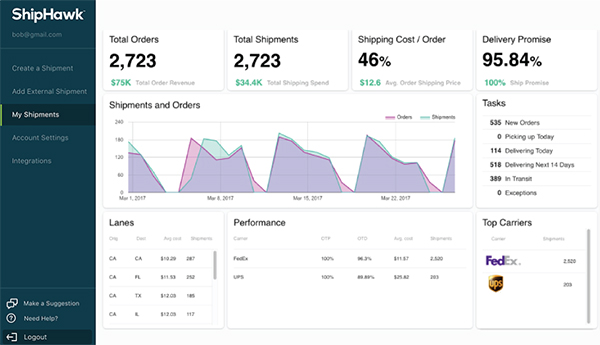 Modern. Beautiful. Optimized. Configurable. Automated. Data-Driven.
ShipHawk is a modern transportation management system (TMS) that helps businesses save money, automate workflows, provide an on-brand buying experience, and run data-driven supply chains.
What you get with ShipHawk's TMS:
1. Lowest possible shipping costs

2. Multi-carrier cross-mode rating engine

3. Beautiful, modern interface

4. Latest technology and RESTful APIs

5. Fast setup

6. On-brand tracking

7. Workflow automation - process more orders faster

8. Packing optimization - the right box, at the lowest cost, every time

9. Vendor/Customer fulfillment interface
 10. Real-time data - full internal visibility