Sunland Logistics Solutions

Arch Thomason
CEO
Purpose:
We help our customers do what they do…better!
Vision:
To create a great 3PL company where opportunity exists, people want to work, and customers want to buy.
Values:
Winning Every day
Customer Loyalty
Associate Engagement
Reaching New Heights
Encouraging Excellence
Sunland's executive leadership is a team of industry experts with global company experience who are united by the desire to provide better service through:
Customer alignment
Lean & continuous improvement culture
Vested approach to building relationships
Developing a winning team supported by servant leadership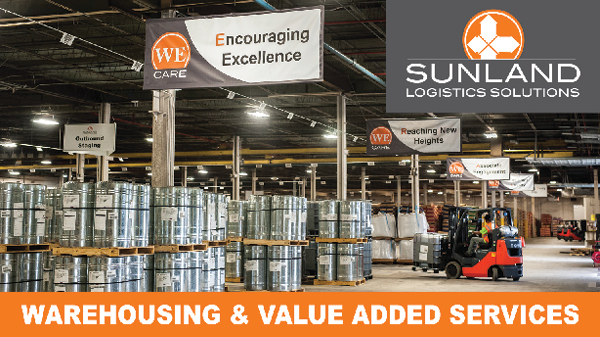 Sunland Logistics Solutions is a third party logistics provider specializing in warehousing and value added services with a lean approach. Our industries of expertise include automotive, retail/e-commerce, chemical, health & beauty, and paper with a wide range of solutions from returns management to Foreign Trade Zone accessibility. Headquartered in Upstate South Carolina since 1982, Sunland operates over 4.5 million SF across the southeast & Midwest and is growing into a national provider.
We expect our customers will have unique requirements that call for us to engineer customized solutions to meet their specific needs. The following is a sample of the services Sunland offers:
Lean warehousing and distribution
Value added services
ISO 9001 certified operations
Inventory management
FTZ accessibility
Returns management
E-commerce fulfillment solutions
Labeling and relabeling
Kitting
Sequencing
Inspection, grading, and testing
Sampling
Toll processing
Drum filling
Shuttle services
TMS solutions
What Makes Sunland Different?
Our Relationship Management processes are designed to understand your strategic direction, then position our organization to support your short and long-term needs. Practices such as Advanced Quality Planning sessions and periodic Business Reviews are essential to facilitating an efficient transition and transformation of your operation. We approach customer relationships as partnerships – built on trust and focused on driving innovation to win as a team.
Our company culture is rooted in continuous improvement, safety and respect for all people. We have a team mentality and provide a learning environment designed to engage and empower our associates to expose and solve problems. The members of our executive team naturally have a strong servant leader mentality which permeates throughout the entire company. How can I help? is a common phrase you hear at Sunland.