TOTE Maritime Puerto Rico

Tim Nolan
President
Mission Statement:
To continue leading the shipping industry with a professional team that is dedicated to unparalleled customer service, safety, and environmental responsibility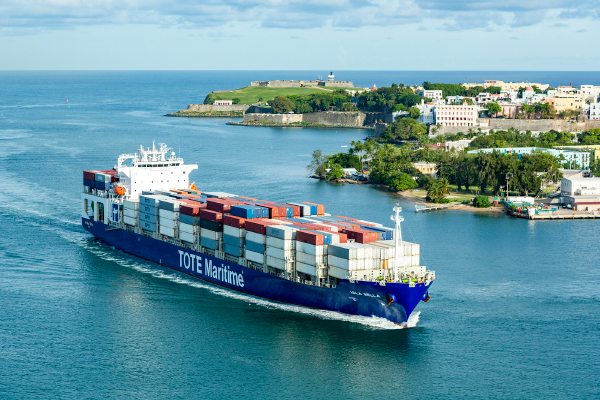 Since 1985, TOTE Maritime has been shipping cargo to Puerto Rico twice weekly, offering consistent and cost-effective transport to a wide variety of U.S. companies in the non-contiguous states.
At TOTE Maritime, we understand that shipping is about more than reliable delivery, it's about people. We make our clients' needs our primary focus, offering efficient and unparalleled customer service. TOTE Maritime is also committed to our employees, as we recognize they are the foundation of our success. It is through their dedication, integrity, and focus on safety that we will continue to exceed our clients' expectations.
There is no better example of our devotion to all people than our leadership in environmental responsibility. We were the first in the industry to invest in two new LNG-powered vessels — the first of their kind in the world and built specifically to support the Puerto Rico trade. These Marlin-class ships markedly surpass the U.S. Environmental Protection Agency's clean air regulation standards, while helping to provide safe cargo deliveries that keep communities moving in Puerto Rico and the Virgin Islands.
Explore a few more of the many reasons you'll want to experience the TOTE Maritime difference:
Safety:
Exceeding compliance with all laws, regulations and company safety rules
Keeping safety at the forefront of our actions and decisions
Ensuring a safe work environment for our employees
Commitment:
Focusing on our people, our customers, our communities, and the environment
Recruiting, training, and developing top-notch talent in the maritime field
Leading the industry in environmental initiatives
Integrity:
Providing proactive communications and excellent response times
Offering meaningful, customer-focused solutions
Giving back to the community with grants and philanthropic activities

TOTE Maritime Puerto Rico
10550 Deerwood Park Blvd.
Ste. 509
Jacksonville, FL 32256
877-775-7447
www.totemaritime.com