Transplace

Tom Sanderson
CEO
Mission Statement
Achieve supply chain excellence for our customers – North American manufacturers, retailers, and distributors - as the premier provider of managed transportation, consulting & TMS solutions; and intermodal, truck brokerage, and cross-border trade services.
Exceed customer expectations through superior quality and value. Our assets are people, proven processes, proprietary technology and scale.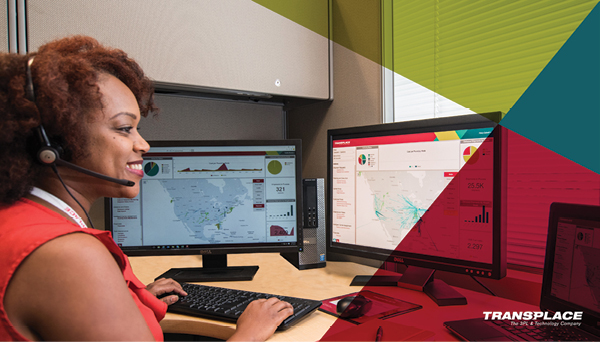 Transplace is a North American non-asset based logistics services provider offering manufacturers, retailers, chemical and consumer packaged goods companies the optimal blend of logistics technology and transportation management services. Our services and capabilities include Transportation Management Services, Intermodal, Brokerage and SaaS Transportation Management (TMS) Solutions supplemented by supply chain strategy consulting services. We are recognized among the elite 3PLs for our proven ability to deliver both rapid return on investment and consistent value to a customer base ranging from mid-market shippers to Fortune 500 companies.
Transportation Management
Transplace offers flexible and customizable managed transportation services that optimize our customers' supply chain and help them outperform their competition. Shippers of all sizes across North America choose Transplace for the convenience of having a single transportation partner that can support the unique and changing needs of their business and alleviate the administrative burdens of transportation management. Whether you are looking for a completely outsourced solution, Software as a Service (SaaS) technology, or something in between – Transplace can provide a customized business solution to fit your needs.
Managed Transportation Services
Proprietary SaaS TMS
Global Control Towers
Supply Chain Consulting
Intermodal
When it comes to domestic and cross-border intermodal services throughout North America, Celtic International, a Transplace company, brings efficiency and flexibility to your supply chain. We strive to implement a dynamic solution to our customers' transportation needs by providing consistent capacity and the optimal blend of transit times and ramp location. Our established relationships with all Class 1 railroads allow us to compare rates and routes to ensure speed and service above everything else – and our loyalty is always with the customer.
Domestic and cross-border services
53' Containers
40' Containers
Refrigerated
Temperature Protected
Brokerage
Transplace brokerage gives you access to the knowledge, service and scale of an industry leading transportation management provider. Our focus on long-term partnerships and relentless execution allows you to rest easy and stay focused on your business, while we efficiently manage your shipping needs with reliability and precision across North America.
Truckload
Less-than-truckload
Cross-border
Cross-border Trade Management
Rely on Transplace to help you navigate through the ever-changing regulatory environment of cross-border transportation. Our compliance experts design strategic processes to help your business mitigate risk, reduce supply-chain costs and get the visibility you need for your logistics operations.
Integrated North America Services
Customs Brokerage & Trade Compliance
Cross-Docking

Transplace
Centers of Excellence

United States:
Corporate HQ: Frisco, TX, Chicago, Edison, NJ, Greensboro, NC, Greenville, SC, Laredo, Lowell, AR, Los Angeles, Philadelphia, St. Louis, Stuttgart, AR
Canada:
Calgary, Montreal, Toronto
Mexico:
Apodaca, Nuevo Laredo, Columbia, Nuevo Laredo, Mexico City, Monterrey, Nuevo Laredo, Tamps, Querétaro, Saltillo
Contact Info
info@transplace.com
transplace.com
blog.transplace.com
logisticallyspeakingblog.com
888.445.9425