Amerijet

Pamela Rollins
Sr. V.P Business Development
"At Amerijet we focus on service and we are in constant communication with our customers to deliver what's important to them."
Our Vision/Mission: Our vision and corporate values form the foundation of the way we do business at Amerijet International, Inc. The culture of our company and the values we foster guide our relationships with our customers, vendors, and business partners.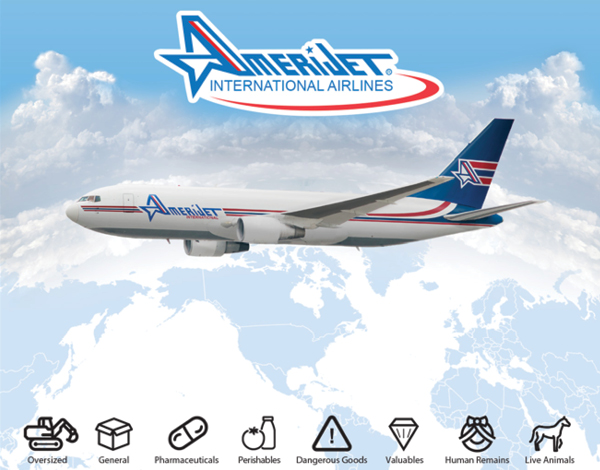 About Amerijet
Amerijet International Airlines is a full-service multi-modal transportation and logistics provider, offering international, scheduled all-cargo transport via land, sea, and air. Florida-based Amerijet operates offices all over the world, serving destinations throughout the Americas, Mexico, the Caribbean, Europe, Asia, and the Middle East. Amerijet is able to offer scalable solutions ranging from traditional airport-to-airport to port-to-port movements as well as door-to-door services to its primary destinations.
Customized Solutions
Amerijet provides highly distinct air cargo services through its worldwide network, providing consistent delivery of all types of shipments, including live animals, high value shipments, hazardous materials, temperature controlled and pharmaceuticals. Amerijet International is the first all-cargo airline of U.S. origin to earn IATA's CEIV-Pharma certification, promising to exceed the high standards set by the pharmaceutical industry.
With a consistent aim to increase efficiency, quality and reliability, and the experience to transport difficult-to-handle freight, Amerijet's tailored industry solutions combine land, air and ocean operations.
For customers requiring dedicated service solutions due to the intricacy and scale of their projects, Amerijet operates long and short-term charters within and beyond its network. Amerijet's strength lies in its collaborative customer approach to understand the complexities of each project and deliver the solutions they need.
Technology
As an early adopter of EDI communications, Amerijet accepts digital bookings and transmits proof of delivery information with many of its worldwide customers using Cargo-XML messages. Customers can easily connect to Amerijet directly or by using Descartes or CHAMP. Amerijet is fully E-AWB ready.
More About Amerijet
Amerijet operates Boeing 767 aircraft from its primary hub at the Miami International Airport serving the Caribbean, Mexico, Central and South America with direct all-cargo flights. Amerijet's worldwide partner network provides seamless transportation solutions for customers throughout Europe, Asia, South Africa and the Middle East. The company's Miami 210,000-square-foot export and 100,000-square-foot import air cargo handling facilities include a custom-built 10,300 square-foot (227,419 cu. ft.) perishable handling center providing refrigerated, frozen and chilled storage to maintain the cold chain integrity of pharmaceuticals and perishables during the transportation process. Advanced monitoring procedures provide real-time shipment visibility, alerts and cargo tracking.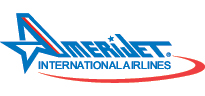 Amerijet
3401-A NW 72nd Ave.
Miami, FL 33122
Toll Free: 800-927-6059
Phone: 305-593-5500
Fax: 305-718-8271
Email: sales@amerijet.com
Amerijet International Airlines
2800 S. Andrews Ave.
Fort Lauderdale, FL 33316
Phone: 954-320-5320
IP Ext. 4320
Email: eclark@amerijet.com