nVision Global

Luther M. Brown
Founder & CEO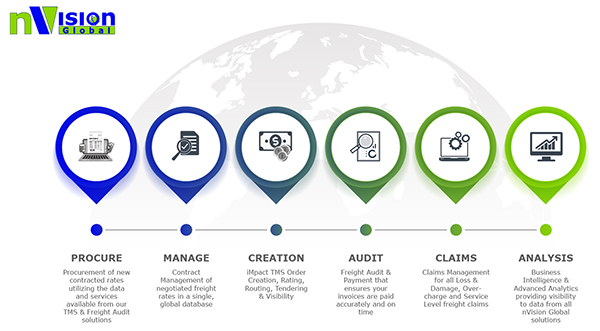 nVision Global is a leading Global Freight Audit, Payment & Logistics Management Solutions provider. With locations in The Americas, EMEA and APAC regions; our staff, fluent in over 25 languages, processes and pays freight invoices from over 198 countries worldwide.
From our roots as a North American service provider nVision Global has evolved to one of the fastest growing Global Freight Audit, Payment and Logistics Management solution providers in the industry.
Our customers have come to rely on our prompt, accurate, Sarbanes-Oxley compliant freight audit and payment services and software as well as our leading-edge information management analytical tools to increase efficiencies and reduce their overall supply chain costs.
Over the years we've continued to build on our success by "Partnering" with some of the world's most recognized companies from a wide array of industries to provide state-of-the-art technology, flexible processes and unparalleled customer service second to none in the industry.
As your global business partner, nVision Global is poised to provide your company a true single source global solution with the flexibility and foresight to meet your current and future needs. nVision Global's products and services provide year over year savings that go directly to the bottom line!
While each of our customer's demand products and services tailored to their unique needs, nVision Global with its flexibility and technology is ideally equipped to meet these requirements. Our commitment to excellence through continuous improvements, technology enhancements and customer service allows us to provide services efficiently and intelligently around the globe.
nVision Global Highlights include:
Global Single Source Solution
Industry Leading Analytical Tools
Multi-Lingual Staff
Processing Freight Invoices From Over 198 Countries Worldwide
Experts in Processing all Modes of Transportation
Six Sigma Process Improvement Methodology
Core Services include:
Global Freight Audit/Payment
Single Global Platform
120 Standard Data Elements Captured
Latest Imaging Technology
Experts in Complex Account Coding
On-demand Closings
Non-commingled Payments in any Currency
Business Intelligence/ Information Management
Industry Leading iFocus Dashboard
Global Mapping, Graphing
Ad-hoc Reporting
Least Cost Carrier Applications
Single Source Data Warehouse
Logistics Management
Benchmarking
Vendor Compliance Reporting
Shipment Tracking & Visibility
Rate Negotiations
Key Performance Indicator (KPI) Development
Global Freight Bid/Tendering Services
Claims
Loss & Damage Claims Software or Service

nVision Global
World Headquarters
1900 Brannan Rd., Suite 300
McDonough, GA 30253
Phone: +1 770.474.4122
Central America Office
Curridabat, La Galera
100 mtrs al norte, 25 mtrs al este
Edificio Bioquim #2, 2do piso
San Jose, Costa Rica
Phone: +506.2271.5613
European Office
Stationsplein 8-K
Maastricht 6221 BT
Netherlands
Phone: +31 (0) 43 799 9123
Asia Pacific Offices
Room 303, No.15 Chezhan Road
Jiangbei District
NingBo, Zhejiang Province, China
Phone: +86.574.87856760
J-2, 2nd Floor, Block EP & GP
Sector-V, Salt Lake
Kolkata, West Bengal 700091
Phone: +91.33.2357.6571
B-1/A-12, Mohan Co-operative Industrial
Area, New Delhi 110044
Phone +91.11.4150.4442