Finding the Right Strategy for Each Situation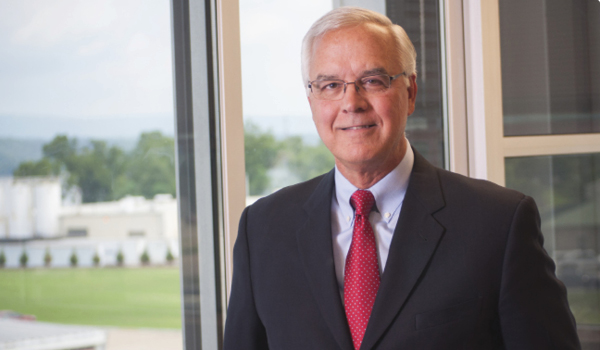 More to the Story:
Denis Reilly's father worked in distribution for 38 years. So when Reilly started college at the University of Tennessee, it was no surprise that he was drawn toward that school's renowned logistics program. "It was a natural fit," he says. "Even some of my summer jobs were in logistics, with Union Carbide."
After college, Reilly went to work at Frito-Lay and then rose through leadership positions at Menlo Logistics, MIQ Logistics (formerly YRC Logistics), Geodis (formerly Ozburn-Hessey Logistics), and St. George Logistics, among others. In June 2017, he became president and CEO of Kenco Logistics, a provider of integrated logistics solutions, real estate services, and materials handling equipment, based in Chattanooga, Tennessee.
In a recent conversation with Inbound Logistics, Reilly described some of the influences that shaped him as a leader, and discussed his first months on the new job.
IL: Since you joined Kenco, what have been your main priorities?
I've held about 45 one-on-one meetings, both in Chattanooga and in the field. My initial objective is to listen and learn. I want to understand our people's capabilities, identify the challenges they see, find out if there are common themes I can help address, and solicit their ideas about how Kenco can grow. Second, I've been visiting all our operations across the United States and Canada, to understand our capabilities and the types of services we provide.
More recently, I've been meeting with customers, getting their perceptions on what we're doing right and wrong, and what challenges we can assist them with in the future.
IL: What are your biggest priorities for the next year or two?
We expect to have a new strategic plan in place by the end of 2017. Over the next couple of years, we'll stay close to our customers and proactively address their supply chain challenges, so we can help with their future goals. Some of our customers foresee a lot of change in the next few years, such as the dramatic increase of speed in the supply chain as a result of the ongoing growth of e-commerce, the "Amazon effect," and emphasis on final-mile delivery. We'll expand our service capabilities to continue to meet those needs.
IL: Across the span of your career, what are some of the most important changes you've seen in the logistics sector?
Twenty years ago, implementing a warehouse management system or a transportation management system was very expensive. Now the technology is cheaper and more robust. That's obviously good for shippers, because this technology helps drive efficiencies across their operations.
Also, supply chain topics are more frequently discussed in the C-suite. Supply chain has become of strategic importance to our customers. They tend to look at things as a cradle-to-grave process, rather than asking, "What's going on in my warehouse?" or "What's going on in transportation?" Considering the whole supply chain process at a much higher level in the organization gives them more opportunities to optimize across their networks.
IL: Describe your leadership style.
It's flexible, depending on the situation I'm in. If I'm doing a business turnaround, I'll be a lot more hands-on, making day-to-day decisions quickly because there isn't time to collaborate. But at Kenco, our senior executive team is well versed in supply chain and the needs of our customers. I spend more time on strategic planning, making sure that our organization is centered on the customer, that we're developing our managers and driving continuous improvement. Here, my style will definitely be more collaborative, leveraging the extensive experience of our executive management team.
IL: Does it take special skills to lead a family-owned business when you're not a member of the family?
Our chairwoman, Jane Kennedy Greene, manages our governance process, striking the right balance between the family and the company. But we have to make sure we're following clear rules, policies, and agreements that are already in place. One important thing is that our shareholders actually have faces. They're normal, everyday people who count on us to do well as a company. I have to be sensitive to those relationships and build up trust with those members. I need to make sure the company stays aligned with and sensitive to the family's culture, which focuses on respect, integrity, and humility.
We put a lot of emphasis on employees, customers, and the community. It's not just lip service; it's lived day in and day out. We have people who have been here 20 or 25 years, and they stay here because of our culture. The family is especially concerned about our impact on the community, and focused on the well-being of employees, all the way down to the floor level.
IL: What's one of the most surprising lessons you've learned from a customer?
At one of the 3PLs where I worked, we once won a deal that was worth about $120 million. It was a complex contract, involving multiple warehouses and a lot of transportation. It was a gain share agreement: We had to provide savings, or the impact on our company would not be good.
As we went into negotiations, we found out that one member of the customer's team was formerly a senior procurement person at GE. We thought, "Oh, no, this is going to be a bloodbath!" But it was fantastic. Early on, this person established that we were going to protect both companies. If we disagreed on any particulars, we came to a good compromise. Since then, whenever I've negotiated similar deals, I've made sure to establish that sort of trust on the front end. That sets the tone for the whole relationship.
IL: How do you like to spend your time when you're not working?
Now that the kids are grown, my wife and I spend a lot of time outdoors, mostly hiking. We also have a German shepherd puppy. He's running the show now, and he's going to keep us in shape.