Here Comes the Bridal Wear Supply Chain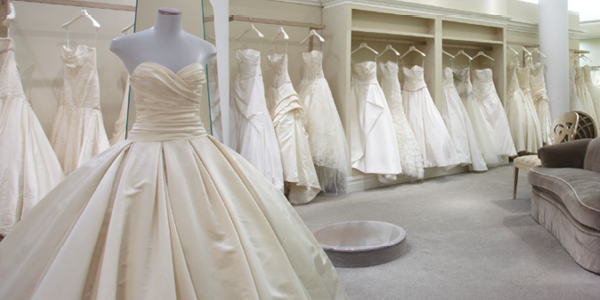 Made-to-order bridal gowns, drop-dead dress deadlines, and emotional brides create a unique supply chain that's no honeymoon to manage.
More to the Story:
At the end of nearly every week at the David's Bridal distribution center in Bristol, Pennsylvania, employees scramble to find a wedding gown in the "right" size for a bride (or two, or three) who bought a dress that was too small because she was certain she'd lose weight before the wedding . . .
but didn't.
It's just one aspect of the bridal wear supply chain that makes it unlike any other segment of the apparel industry.
"This industry is both emotional and time sensitive," says Diane Garforth, senior director of supply chain systems and operations at David's Bridal.
Another key difference between bridal wear and other types of formal attire is that for the most part, bridal gowns are not mass produced and warehoused. While the supply chain varies according to gown price and sales volume, most wedding gowns are made to order. Compare that to other apparel categories, where a customer walks out of the store with a garment in the right size from the retailer's on-site inventory.
With bridal gowns and bridesmaids dresses, and with the exception of David's Bridal, brides and their wedding parties try on dresses in "sample sizes," make their selections, and order the finished products.
There are three reasons behind this unique approach:
Wedding gowns are expensive—think $500 on the low end at David's to $5,000 or more at the designer level—so most small retailers can't afford a large inventory.
Bridal wear takes up more storage space than other garments that can be folded and stacked, so a substantial inventory requires a large retail footprint.
While 85 percent of bridal gowns are purchased in ivory or white, bridesmaids dresses are available in a myriad of colors, so maintaining all options in all sizes isn't practical.
David's Bridal is different, though. The chain retailer dominates the market with volume levels so significant that the company reports 35 percent of all U.S. brides walk down the aisle in a David's gown. As a result, and with hundreds of dresses at every David's store, there's a good chance that a bride will find the gown she wants in her size at her local David's shop.
Unlike the rest of the marketplace, which is made up of primarily small, independent retailers, David's volume allows it to constantly manufacture dresses. When a wedding gown leaves a store, the store orders a replacement that is already in the supply chain somewhere.
When the specific gown requested isn't on site, the store's bridal consultant uses software to locate exactly what's needed to satisfy that customer.
"Our software matches that request for a single inventory unit to a dress that might be on the shelf in the distribution center or in transit on a truck or a ship," says Brian Kinsella, vice president of product management at Manhattan Associates. The Atlanta-based company has provided David's Bridal with supply chain commerce software solutions for more than one decade.
Setting the Date
The more common manufacture-to-order model unique to this industry also explains why brides must make their dress selection months before the wedding date. Kleinfeld Bridal, the upscale bridal boutique in Manhattan that stars in the TLC network reality show Say Yes to the Dress instructs brides at its 35,000-square-foot showroom to order gowns eight to 10 months in advance.
Designer/manufacturers typically don't purchase a bolt of fabric until they accumulate enough orders to use the entire bolt. In addition, "At our designer price point, there's a lot of work that takes time, including appliquéing and bead work that we do by hand," explains co-owner Mara Urshel.
The Manhattan store does work with vendors that can deliver in three to four months, but those suppliers charge a premium for that service. Consultants show brides with short weddings in just a few months dresses only from those manufacturers.
Fabric and embellishment sourcing as well as factory location also impact the dressmaking timeline. Most U.S. wedding gown manufacturers contract with overseas factories for all but the extreme rush orders or premium-priced gowns with higher margins.
"You can handle standard and rush orders in overseas factories, but for super-rush orders, some wholesalers carry a limited factory capacity in the United States so the gowns can be sewn and delivered quickly," says Ajay Chidrawar, vice president of global product management and customer success at CGS, a software solutions provider based in New York City.
Several bridal wear manufacturers, including Bill Levkoff and Amsale, use the company's BlueCherry supply chain software, which can create digital catalogs of bridesmaid dresses in all colors and options, capture sales orders, consolidate and create production orders, and manage fulfillment from the factory to the retail store or consumer's home.
Made of Honor
Brooklyn-based gown designer Jaclyn Jordan of Jaclyn Jordan New York uses home-based metropolitan New York seamstresses to create her wedding gowns. Because she uses fabric that's usually readily available from New York's garment district, she can fill orders in about three to four months. Labor availability is a key factor in her timeline.
"We have only so many manpower hours we can use every week," she says of her contract seamstresses. Jordan's dresses, which are priced between $1,700 and $5,500 at retail, are offered in about 20 bridal salons in the United States and Canada.
Anomalie, a web-based start-up that wants to help modernize an industry that hasn't changed much in decades, can match Jordan's three- to four-month delivery timeline but with a different production model. With a supply chain background at Nike and Apple, co-founder Leslie Voorhees fills online orders for "stunning custom gowns" that are manufactured in a handful of factories near Shanghai. There, "an entire supply chain is built around" wedding dresses that are often made of Chinese silk, Voorhees says.
"We are unapologetically Chinese-made," she says.
Although Anomalie's business is online, its gowns are delivered not to the brides, but to the company's office in the San Francisco area. Staffers inspect, steam, and box them for delivery to brides.
Most bridal gowns are shipped to stores flat, though. Stores steam them before their new owners pick them up. While David's Bridal vacuum-packs wedding gowns for delivery to stores from the Bristol distribution center, it handles bridesmaid dresses differently. They're delivered from factories to a second warehouse in nearby Conshohocken, hung up, and moved through a steam tunnel before they're packed flat for store delivery.
The goal for David's, Kleinfeld, and most every other bridal salon large and small is to make, and keep, brides happy. A single glitch in an individual gown's supply chain, whether it's a fabric that's suddenly unavailable in off-white or a weather-related shipping delay, can create a bridezilla quicker than you can say, "I do."
And stuff happens.
"Nobody's perfect. People make mistakes sometimes and the situation can become highly emotional," says Urshel. On the rare occasion a problem occurs, Kleinfeld Bridal fixes it "in double time," she says.
With a culture built around never disappointing a bride, David's Bridal maintains a stellar 99.5 percent on-time delivery rate.
"We are very proud of our performance," says Garforth. "We do what it takes to keep our brides happy, even if that means sending another size at the last minute."
The bridal wear supply chain is, after all, designed to ensure that when "The Wedding March" starts playing, and the guests all stand, the bride walks down the aisle wearing the dress of her dreams and a big smile.