Digital Issues & Editions

All Inbound Logistics' digital content is in PDF format (requires Adobe Reader). You can read the digital edition on your computer, print articles, or take the issue with you on your iPad or other tablet.
To receive e-mail notifications when new digital issues are available for download, start a free subscription to Inbound Logistics now.
Digital Issue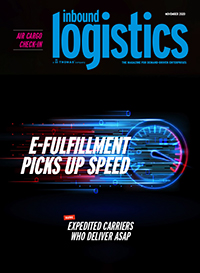 November 2020
November 2020 | 68 pgs. | 11 MB
From deploying technology to precisely positioning inventory, this edition is quick to reveal the supply chain strategies that let shippers accomplish feats of e-commerce fulfillment in record time. This edition will get you moving, checking in on the latest developments in the airfreight sector and rounding up a guide to the expedited solutions providers that can help you deliver ASAP.
Special Report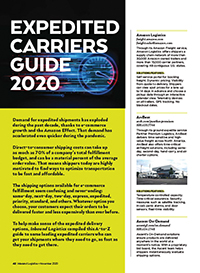 Expedited Carriers Guide 2020
November 2020 | 6 pgs. | 0.42 MB
These expedited freight solution providers and the services they offer help shippers move their freight—and better serve their customers—at lightning speed.