Ascent Global Logistics

Bill Goodgion
President
Mission
Ascent Global Logistics is a full service global logistics partner focused on providing clients with innovative technology, customized solutions and highly individualized service. Our team is focused on going above and beyond to optimize clients' logistics performance and accelerate growth.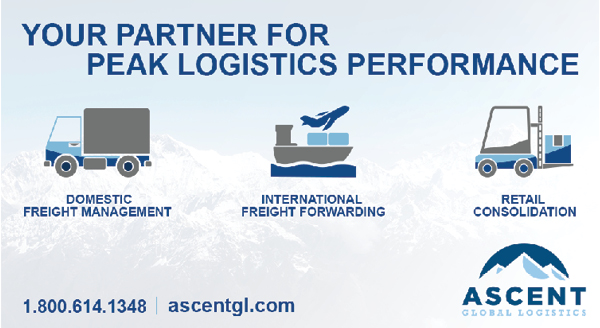 YOUR PARTNER FOR PEAK LOGISTICS PERFORMANCE
Ascent Global Logistics provides a comprehensive suite of Domestic Freight Management, International Freight Forwarding and Retail Consolidation solutions. With a focus on partnership, customer service, continuing education and best-in-class technology, Ascent Global Logistics is committed to helping clients reach new heights of logistics excellence.
OUR SOLUTIONS
Domestic Freight Management
Shipment, Route & Mode Optimization
Outsourced Transportation Management
Transportation Management System (TMS)
Carrier Negotiations
Freight Audit & Payment
Vendor Inbound Management
INTERNATIONAL FREIGHT FORWARDING
Air & Ocean Freight Forwarding
Customs Brokerage
Regulatory Compliance Services
Order Management
RETAIL CONSOLIDATION
2.5 Million Sq. Ft. of Warehousing Space
Strategically Located Network of Facilities
Dry & Temperature Controlled
Food-Grade; AIB & CGMP Certified
State-of-the-Art Warehouse Management System (WMS)
OUR TECHNOLOGY
Ascent Global Logistics is powered by PEAK, an intuitive technology designed to help clients manage beyond logistics with access to insightful and actionable supply chain data to empower intelligent shipping decisions. From domestic to international to consolidation, PEAK enables our team and clients to make optimal and educated shipping decisions.
Our clients gain robust tools to increase supply chain visibility, receive real-time milestone alerts, monitor exceptions, communicate with suppliers and customers, access standard and customized reporting as well as quickly and easily generate shipping documents.
OUR TEAM
Our team of logistics experts are focused on premium customer service that is professional, solution-oriented and collaborative. With a team of experienced logistics specialists, we concentrate on supporting clients through continuous education and best practice guidance.
START YOUR JOURNEY
Let our team of logistics professionals, empowered by state-of-the-art technology, accelerate your climb to supply chain excellence. Contact our team to start your journey.