Knight-Swift Transportation

Dave Jackson
CEO
At Knight-Swift, we provide transportation solutions that improve each customer's ability to compete and grow their business. With the considerable assets of North America's premier $5 billion transportation company–we are on a mission to deliver more.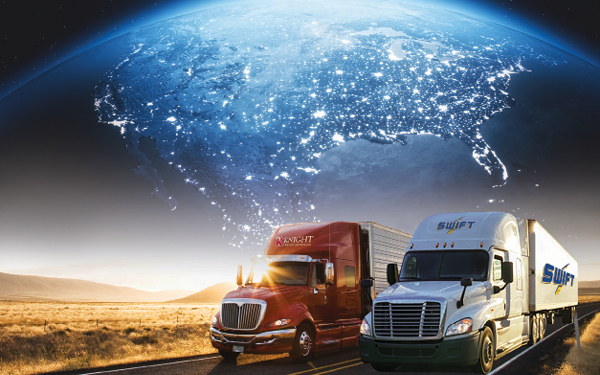 Knight Supply Chain Solutions
Knight Supply Chain Solutions provides asset backed transportation management and 3PL services that leverage the Knight-Swift network. From LTL to a full network analysis we design, engineer and execute customized supply chain solutions—True Solutions™.
E-Commerce Support
Our time-critical, expedited truckload, and airfreight capabilities yield high-performance results through precision delivery, load visibility, pro-active 24/7/365 customer service, team transit, trailer pool control, and capacity flexibility.
Dry Van Truckload
With nearly 23,000 tractors, 77,000 trailers, and 28,000 transportation professionals we successfully operate the nation's largest truckload fleet by incorporating the strongest core values with the most comprehensive terminal network in the industry.
Refrigerated Truckload
Providing nationwide temperature-controlled solutions utilizing 2,300+ asset-based tractors with state-of-the-art temp-controlled equipment and technology.
Flatbed
Full North American coverage including Mexico. We utilize one of the industry's widest varieties of specialized equipment and trailer configurations with live tracking to provide superior service.
Dedicated
Comprehensive door-to-door, engineered fleet solutions tailored to your supply chain that delivers a consistent high level of service and reliability.
Brokerage/Logistics
Companies of any size can tap into North America's largest freight network. With over 25,000 certified partner carriers coast-to-coast, our solutions cover dry van, refrigerated, and flatbed.
Dray/Port Services
We operate over 370 trucks with offices and secure drop yards located in close proximity to most major ports / rail heads in order to facilitate timely service.
Intermodal
Asset and non-asset based door-to-door intermodal capacity when and where you need it. Our strategic relationships with multiple railroads, 9,000 double stack containers, and extensive trailer pool enables us to provide flexible service in every market.
Cross-Border
Our Trans-Mex unit and Customs Brokerage Service allows us to complete the supply chain and offer the ONLY true door-to-door transportation service in the industry. This translates to better service and a timely, safe and affordable delivery of your freight.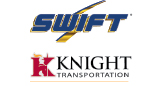 Knight-Swift Transportation Holdings LLC.
20002 N. 19th Avenue
Phoenix, AZ 85027
800-489-2000