Kuebix

Dan Clark
Founder and President
Kuebix Mission
Kuebix was founded in 2008 with the mission of leveraging the latest cloud technology to build a transportation management system (TMS) with Freight Intelligence that enables companies to capitalize on supply chain opportunities through visibility, control and the use of predictive analytics. That vision was realized when the Kuebix team of freight and technology experts launched Kuebix TMS, a next generation SaaS TMS that is changing how businesses of all sizes purchase freight.
Products/Services
Download "The Complete Buyer's Guide to TMS"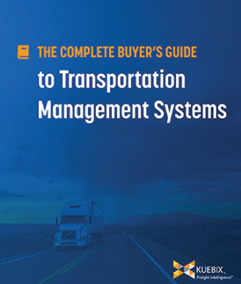 Whether you're looking to find the best shipping rates, manage a growing logistics operation, or discover new efficiencies in a sophisticated supply chain, Kuebix shifts the balance of power back to you, the shipper.
It all starts with Kuebix's transportation management system (TMS), which creates a community where shippers and carriers interact to drive better levels of service and accountability. Instantly rate, book and track orders using Kuebix's cloud-based, multi-tenant TMS. From order creation to final mile, customers gain sorely needed visibility and can apply predictive analytics to their operations for better decision-making.
Kuebix TMS is a single code base that scales from meeting the needs of small businesses to Fortune 500 companies with more complex and elaborate supply chains. The TMS can be implemented quickly with the base TMS, then logistics professionals can seamlessly add Premier Applications and Integrations as needed. Kuebix also offers unique Managed Service Programs to businesses looking to partially or fully outsource transportation management.
Kuebix TMS was designed by a team of freight industry insiders who have helped build and optimize corporate shipping operations for large corporations. Dan Clark, Founder and President, is a transportation industry veteran. He possesses extensive operations and sales experience gained from years of working with leading freight carriers. He has also consulted with multibillion-dollar corporations with vast supply chains and is known as an industry visionary who has found a way to embed his strategy for supply chain efficiency into an intuitive, powerful software platform.
At Kuebix's core is Freight Intelligence™; actionable analytics that enable logistics professionals to spend their time planning ways to increase the efficiency of their supply chain rather than fighting fires. Many Kuebix TMS customers have reduced their annual freight spend by 20%, and have implemented programs to turn their freight operations into a profit center.
With the data-fueled management capabilities of Kuebix TMS, logistics managers can help position the logistics department as a strategic asset as businesses seek to continually evolve and optimize their core operations.

Kuebix
5 Mill & Main Place
Maynard, MA 01754
978-298-2100
www.kuebix.com