Litco International, Inc.

Gary Sharon
Executive Vice President
Founded in 1962, Litco International offers innovative, cost effective, sustainable transport packaging pallets and load securement solutions that are designed for LTL, truckload, rail, overseas container and air shipping. We specialize in the molding of wood fibers into three dimensional shapes and sizes. We ship from two locations that can economically reach most of the USA and neighboring countries.
Litco International is the exclusive North American source for the Inca(R) Molded wood pallet. Other services include, but are not limited to, pallet leasing, pallet management, pallet removal and pallet recycling. Litco's product specialists are "Export Pallet Experts" and are trained in eliminating the pallet related pains associated with export shipping

Introducing..."The Exporter" Engineered Molded Wood Pallet
A low-cost, strong, internationally accepted pallet built for export shipments.
Here's how our molded wood pallet OUTPERFORMS conventional wood, plastic and corrugated pallets for one-way domestic and export shipping!
ISPM 15 compliant "as is" – no additional costs to heat treat or fumigate.
Low M.C. of 3% at time of manufacture - Mold, termite and bacteria resistant
Sanitized at 350 degrees Fahrenheit in the molding process.
Typically 33% lighter than new hardwood pallets
Lower cost per pallet: 48" x 40" as low as $7.00 (truckload quantity)
Performance Facts:
Our molded wood pallets are twice as stiff as new hardwood pallets! Stiffer pallets are always better:
They are more stable.
They reduce the vibration transmissions and stresses on packaged products being transported.
They help to resist load shifting during transportation.
They allow the potential to reduce the specification and cost of distribution packaging materials.
Durable
Due to their eco–intelligent design, Inca molded wood pallets have a 52% greater resistance to fork-related, pallet edge damage. This is because they do not use nails or staples to form joints that are subject to failure upon impact.
For a free sample visit our web site: www.litco.com/export-grade-pallets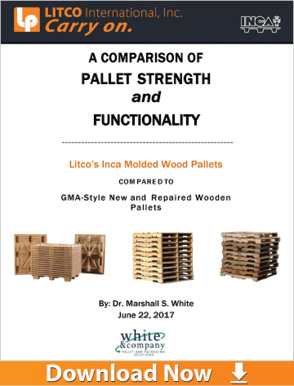 Want to see the science behind our performance declarations? Download the Whitepaper comparing Litco's Molded Wood Inca Pallets to Conventional Wooden Pallets at www.litco.com/GMACompareReport